Evidence leads to non-surgical treatments
Strong scientific evidence shows that surgery is not the right treatment for many joint problems including shoulder impingement, degenerative knee problems and spine instability. Instead, it has been demonstrated that therapeutic exercises are at least equally effective, with significantly less costs and risk of complications.
No evidence of long-term benefits of arthroscopic acromioplasty in the treatment of shoulder impingement syndrome, S.Ketola & al, Bone Joint Res 2013;2
A Randomized Trial of Arthroscopic Surgery for Osteoarthritis of the Knee, Alexandra Kirkley, M.D & al, N Engl J Med 2008
Spinal fusion for lumbar instability: does it have a scientific basis? Muggleton JM1, Kondracki M, Allen R. J Spinal Disord. 2000
Seize the opportunity
These new findings open up new opportunities for physiotherapy. Our solution provides methods which are supported by medical guidelines. The DAVID Exercise Equipment brings continuity and stability to treatment design and the methods used are optimal for the end-user. With DAVID's Exercise Therapy Solution, producing physiotherapy services is less expensive and easier to scale economically. Detailed documentation enables precise tracking of improvement and thus increases the credibility.
DAVID Exercise Therapy Solution is a comprehensive platform to fully benefit from these new opportunities.
Prove your success
The DAVID Solution collects all relevant data from questionnaires, pain drawings, tests and exercises. These are automatically compiled from several sources including DAVID devices, e-mail links, tablets, mobile phones and the Info-Kiosk. Data gathering is pre-programmed according to each treatment pathway, which ensures that all data is collected with minimal human intervention.
All data is instantly available for reporting and analysis. With one click, an up-to-date status of any patient can be retrieved. All relevant center- or network-level data is available at all times for managers.
"Member- based prevention programs are a new revenue source for the center and increase customer loyalty"
Produce value for patients affordably
Quality care does not need to be expensive to produce. Our solution allows physiotherapists to focus on the patients' motivation and well-being while modern technology takes care of the repetitive work precisely and safely. This increases patient satisfaction without driving up costs. In fact, the cost per session is significantly lower than with traditional physiotherapy. The bulk of the work occurs in the first session when a new patient is introduced to the system. After this initial session, the physiotherapist's manual workload is dramatically reduced, and the therapist can concentrate on more critical tasks.
Turn your patients into members
Patients are quickly empowered by the ease of use of the DAVID Solution. After just a few visits, they are able to run their routine without any hands-on help by the staff. This opens up a completely new business opportunity for health care providers: a member-based model for ex-patients and others who want to improve their quality of life. With steady recurring revenues, this model provides stability in your business and high member satisfaction guarantees loyalty in all musculoskeletal needs.
Manage your center – anytime, anywhere
EVE Cloud Service is the heart of the whole EVE platform. All the training information is stored on the server software allowing for a complete analysis of the treatment data. True to a full cloud service, the system can be accessed with a web browser from any location. The cloud service offers several different functionalities. These include profile analysis, quality tracking of each movement, as well as qualitative and quantitative data for center management.
"All data is instantly available for reporting and analysis. With one click, an up-to-date status of any patient can be retrieved."
Structured approach
No more inconsistent results from patient to patient, therapist to therapist. Individualized programs can be applied
in a structured and systematic way, because all parameters are quantified and controlled. Programs are based
on diagnose- and test-based templates which reduce planning time to a minimum, while providing high
predictability in outcomes.
Over 25 years of operating a clinic in Reken, Germany
Albert Jan Dommerholt's physiotherapy clinic in Reken, Germany has been utilizing the David Exercise Therapy Solution for over 25 years. Nowadays, the clinic operates with four physical therapists who each see 15-20 patients daily. Overall about 400 people visit the clinic each week, and half of these are in the David treatment program. The clinic operates in a variety of ways including membership-fee and FPZ-insurance patients.
Exercise therapy innovations are essential for OREC in the Netherlands
Rogier Bokelman, Physiotherapist and co-owner of OREC Physical Therapy and Rehabilitation Center discusses the practical importance of exercise therapy.
"I believe in a holistic approach to treat patients. The various disciplines are slowly combining into an integrated approach to treat complaints. Here, technological innovations such as DAVID will play a dominant role. At OREC we are clearly prepared for the future of physical therapy!"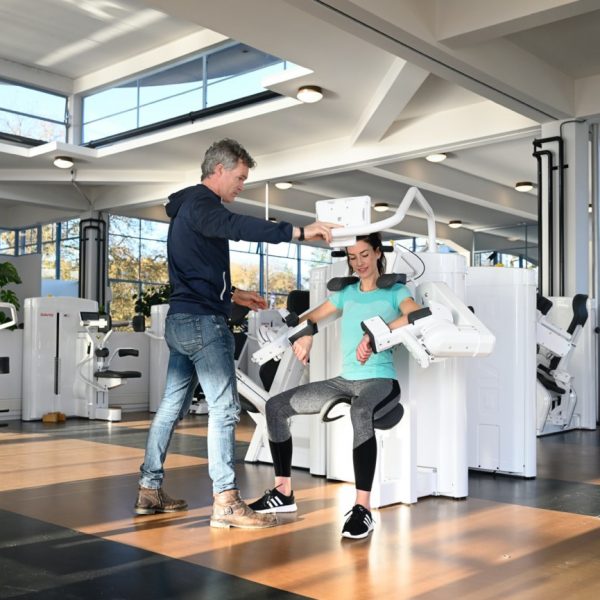 David Reference Centers
David is the largest supplier of medical exercise equipment for musculoskeletal pain with more than 400 intelligent installations worldwide. At these locations, certified physical therapists are trained to guide people with musculoskeletal pain using medical Exercise Therapy guidelines. Visit our reference page for more information about physiotherapy reference centers.
Future of spine and orthopedic care
Download our White Paper