Pop-up store for the David Collection
The newly opened pop-up store offers clinic customers a safe and affordable alternative for buying high-quality athletic wear.
While customers visit the Nordic Health clinic to train on the DAVID medical exercise devices, they are able to visit the pop-up store when it is convenient for them.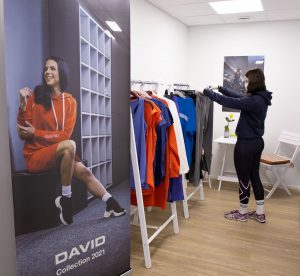 A safe and affordable place to shop the DAVID Collection
At the Nordic Health clinic pop-up shop, hygiene is a priority to ensure the safety of customers. There are multiple sizes on display of all of the DAVID Collection styles for both men and women. Before trying on clothes, customers must wash their hands, and wear a mask. Clinic personnel are also available to help answer questions and provide additional sizes.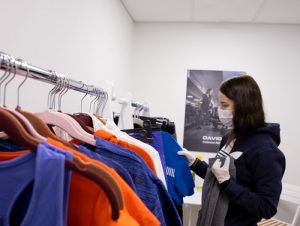 Are you interested in launching your own David Collection pop-up store?
The newly launched David Collection 2021 has its own online magazine where you will find current styles and relevant information on these. Order inquiries can also be sent via the online magazine's Contact page.
We have divided the collection into sets which include a recommended array of sizes. There is a limited supply of clothing sets available and can be ordered for your clinic or center via our global distributor partners.