Motion Cross
Der motion cross besticht durch seine aufrechte Trainingsposition, beansprucht eine große Anzahl von Muskel-gruppen und ist gelenkschonend. Die elliptische Pedalkurve führt zu einer sanften Bewegung mit einer guten Abstimmung von Arm- und Beinarbeit. Damit ist das Training auf diesem Gerät der ideale Ausgleich zur oft sitzenden Alltagshaltung vieler Nutzer. Zum Ende eines jeden Trainings oder bei Programmabbruch wird die Bewegung automatisch gestoppt, bevor der Cool Down beginnt.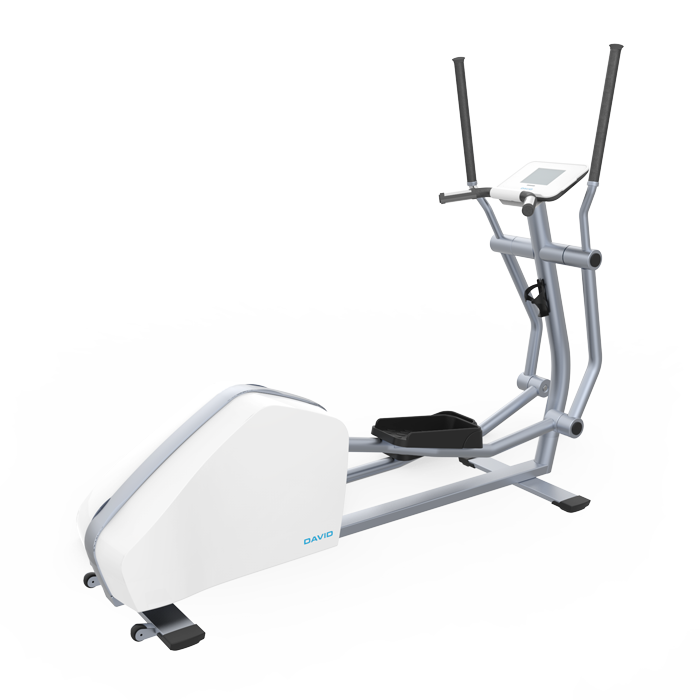 Funktion
Einfach zu bedienendes, hintergrundbeleuchtetes Display
Netzunabhängig
Codierter Polar®-Pulsempfänger
Vor- und Rückwärtsbewegung möglich
Große, rutschhemmende Fußtritte
Drehzahlbegrenzung für mehr Sicherheit
Abmessungen (Breite, Länge, Höhe)

65/200/165 cm, 26/79/65 in

Gewicht

103 kg, 227 lbs

Certification

Medical version:

Medical-CE according to directive 93/42 EEC, class IIa
DIN EN957-1 SA
DIN EN957-5 SA
DIN EN 60601-1-2
Fitness version:

CE
DIN EN957-1 SA
DIN EN957-5 SA
DIN EN 60601-1-2

Programme

Quick start
Watt
Watt sensitive
Pulse
Isokinetic
Therapy
Interval
K-Cal
Hill
Random
Distance

Anpassungen

Incline range: 0 – 15% incline

Umgebung

Maximum user weight: 150 kg, 331 lbs

Heart rate monitoring: Polar® pulse receiver

Eigenschaften

Belt drive:

Integrated Emergency-Stop-System
Energy saving brushless 1300 W DC Motor
Toothed belt lamella system

Optionen

Hand pulse connection:
The metal leads in the grips can read the user's heart rate while gripping them, without the need for a heart rate band.

Ear pulse connection:
Small clips can be attached to the ear that read the user's heart rate during training, without the need for a heart rate band.

User weight extension 200kg, 441 lbs:
Structural modifications to the frame and motor of the treadmill to accommodate heavier users up to 200kg, 441 lbs.

External power supply:
Initial resistance can be lowered to 15 watts with optional power supply. The power supply also allows for constant on operation.