Discover the world of the DAVID Exercise Equipment
DAVID offers exercise equipment for the back, shoulder, hip, and knee. With the most advanced technology for rehabilitation, DAVID is the market leader in data-driven device-based exercise therapy.
Research has shown that Exercise Therapy is the first-line treatment for treating musculoskeletal complaints. DAVID's data-driven device-based medical exercise equipment is designed for patients with back and neck pain, shoulder pain, and hip and knee pain. The all-in-one concept includes scientifically proven medical exercise equipment and EVE software (SaaS) for therapists and patients.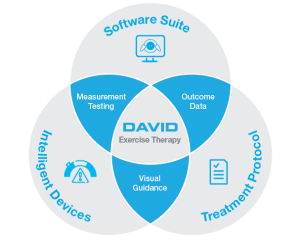 The technology behind our Exercise Equipment
A well-designed exercise prevents harmful movements, is gentle on the joints but highly fatiguing for the muscles and can be easily fine-tuned for each individual. A team of experienced engineers and exercise specialists design our medical exercise equipment producing the most advanced rehabilitation technology.
The DAVID devices are classified as Electromechanical rehabilitation devices (Medical Class 1m) with measuring function (Directive 93/42/EEC).

Therapy Software –  EVE Platform
The comprehensive EVE software platform (available in more than 20 different languages) for healthcare professionals is essential to manage our Exercise Equipment. The software establishes training templates, analyzes patient outcomes and tracks patient satisfaction. The software uses artificial intelligence and algorithms based on patient biofeedback. The EVE software is designed to minimize the administrative burden on therapists so that they can focus on the patient.
Intake Automation – Email and text intake forms and functional outcomes to patients
Measuring function – mobility and isometric test functionalities
Therapy Software – Easily document treatments via daily notes
Training Programs – Automation of training programs through AI
Home Exercise – home exercise programs
Medical Questionnaires – Digitization of medical questionnaires
Schedule Appointments – via APP and embedded calendars
Hl7/API Integration – Connect EVE with your existing EMR system or other software/hardware vendors
Patient Engagement with the EVE Mobile App
The EVE app is an interactive mobile app for tracking training data and sharing exercise programs. This patient-friendly app is an effective and efficient way for patients to communicate directly with the physiotherapist and minimizes administrative burden. The EVE app helps with many tasks including:
Guidance and tracking for home exercises
Chat with your therapist or group members
Manage appointments with your therapist or training group
Task module with notifications to improve your health
Overview of training results and reports
DAVID Academy for instructors, clinic managers and healthcare professionals
The DAVID Academy is an e-learning platform with courses, information, and videos on how to make the most of the DAVID exercise equipment and EVE software. You will learn to set up the patient to the devices correctly, complete mobility and strength tests, train with the correct movement, and understand the contraindications related to training and testing. You will also learn about the functionalities of EVE, and how to best utilize the therapy software in practice. You will receive an official DAVID e-learning certificate from each course. The online learning environment is available in multiple languages for any DAVID user worldwide.
Successful business model through data-driven device-based Exercise Therapy
How do you differentiate your center from others and make an investment in Exercise Therapy profitable? Add value to your stakeholders and create a successful business model for physiotherapy, chiropractor practices, hospitals, rehabilitation centers, fitness centers, and elderly centers.
Impact of DAVID Exercise Equipment
DAVID has been developing exercise equipment for physiotherapy centers, chiropractor practices, hospital rehab centers, spine or orthopedic centers, fitness centers, Companies and military bases since the 1980s. DAVID is a world leader in data-driven exercise equipment and has more than 600 installations within medical facilities in Europe, North and South America, Australia, and Asia.
The state-of-the-art exercise equipment is manufactured in Finland (Europe) and is supported by various validation and outcome based scientific articles.
Testimonials
Read about the experiences of world-leading surgeons, doctors, therapists and entrepreneurs around the world.
The David Solution offers a tailored yet standardized approach, ensuring high-quality care for each patient. The treatment is safe, scientifically validated, and, in high-volume scenarios, remains economically viable for both the clinic and patients as it is affordable and sustainable in the long-term.
Dr. Pedro Berjano, MD, PhD, CEO of Ortho-Spine (Italy)
Swiss Ortho Clinic is a multidisciplinary center for musculoskeletal disorders. "I treat everyone as I would want my loved ones to be treated if they consulted a colleague.
Dr. Santiago Echeverri MD, CEO of Swiss Ortho Clinic (Switzerland)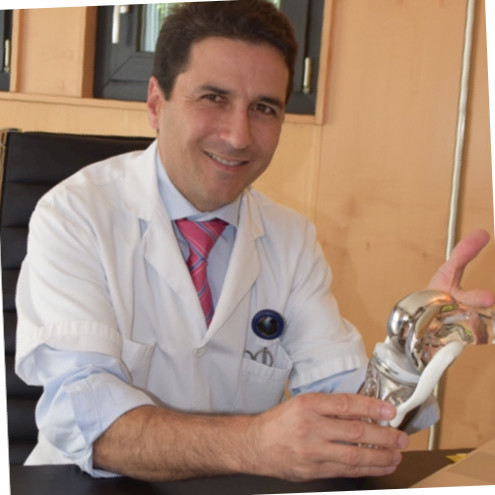 At the NOP center, we have been using the DAVID Spine Solution 4 years and it has positioned us as a center specialized in spine rehabilitation that is unique in Croatia. Our goal is that patients who are rehabilitated in our center later continue to exercise for preventive purposes, which we have largely succeeded. Out of more than 30 patients per day, 40% of them come for preventive purposes. We are growing year by year and we are happy that we can help more and more people.
Mario Klasic, CEO of NOP Physiotherapy (Croatia)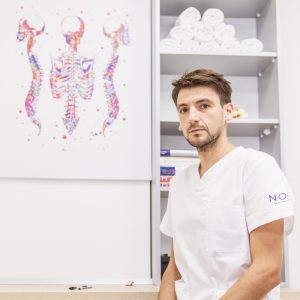 Our hospital's physiotherapy center caters to both in-patients and outpatients, and we see over 100 patients per day. The EVE system is one of a kind and a very useful tool to analyze and motivate patients. We don't have to sit down and do manual assessments with patients either. All of the mobility and strength assessment can be done with the devices and the data is automatically collected and stored.
Threeranjeet Kaur, General Manager of Bukit Tinggi Medical Centre (Malaysia)
Future of spine and orthopedic care
Download our White Paper