I am Stefan Meyer, a sports scientist based in Leipzig, Germany. Sports medicine has been close to my heart as I used to be a former competitive athlete in the discus throw. Currently, I am the managing partner of the FPZ back therapy centers located in Leipzig and Jena. I have been running the FPZ Rückentherapie Leipzig center since 2008. This focuses on physiotherapy and medical training therapy.
In 2014, our FPZ Rückentherapie center in Jena was opened. The FPZ Concept is unique to Germany and offers insurance-backed device-based exercise therapy to treat back pain problems. There is a blog article which describes the German FPZ Concept more in-depth.
My latest project has been the Angerbrücke GmbH therapy center, where I am the owner. This center, opened in 2020, is special in that it offers comprehensive musculoskeletal care with the 3 DAVID Solutions for the Spine, Shoulder, and Hip & Knee. In addition to the full DAVID Solution, the Angerbrücke therapy center also offers physiotherapy services, water movement therapy, and altitude cardio room.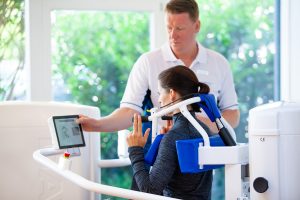 Stefan conducting a mobility test with a patient on the G120 Lumbar/Thoracic Rotation device.
Germany has unique opportunities for treating musculoskeletal pain patients
The German market is unique in that we have two different referral types. Some of our patients come through public insurance and others through private insurance.
The clinics have also been successful in attracting self-payer customers who pay out of pocket, but even this group comes to the clinic via a doctor referral.
"The physiotherapist has more time to encourage and guide patients."
When a person comes to the clinic, they begin their session with a 20 minute warm-up with cardio and stretching. Then they complete their device treatment program on the DAVID devices. Due to the guidance and control offered by the EVE system, one therapist can comfortably work with three patients at the same time and instead of controlling each movement and range can offer a more holistic approach to the patients' needs. The physiotherapist has more time to offer encouragement and guidance for the patients. After this, the patients do a 20 minute cool down.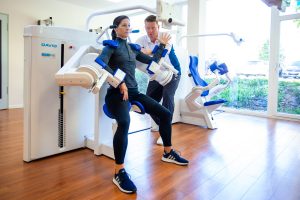 Exercise therapy to treat neck pain with the DAVID G140 Cervical Extension / Lateral flexion device.
In our approach, the patient feels that the training is guided and supported by the overseeing physiotherapist. It is important to have a trusting connection between physiotherapist and patient.
The effectiveness of DAVID medical exercise therapy surprises both patients and surgeons
The general feedback from patients at the three clinics has been overwhelmingly positive. They enjoy the device-based training. Going over individual EVE reports with the clinic physiotherapist also provides patients with more information on their recovery and encouragement to continue as they can see progress happening.
"They are always surprised by the testing capability for the spine, hip & knee, and shoulder". 
We have had several surgeons visit the FPZ locations and the new Angerbrücke therapy center. They are always surprised by the testing capability for the spine, hip & knee, and shoulder. In fact, the feedback has been so positive that we have 50 cooperating doctors.
The global pandemic has not stopped medical exercise therapy training
The COVID-19 pandemic greatly affected our patient sessions in the spring of 2020. From March until June of last year, we had approximately 70% appointment cancellations at the FPZ therapy center locations. Since November, there have been approximately 30% in appointment cancellations, so the situation is steadily improving. There are approximately 2000 training sessions at the Leipzig center per month.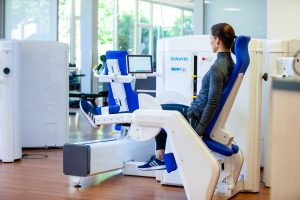 A woman exercises at Therapiezentrum Angerbrücke with the DAVID G200 Knee Extension device to treat knee pain.
We have taken hygiene and safety seriously by significantly increasing our disinfection and social distancing measures. The device-based exercise therapy requires much less person-to-person contact which helps keep both physiotherapists and patients safe.
During these slower times, we have also completed a mass renovation at the Angerbrücke therapy enter and currently have a professional education module going to support our physiotherapists.
A bright future for medical exercise therapy in Germany
I think there is a bright future for medical exercise therapy in general. It is able to transform how we treat musculoskeletal pain patients both in the short- and long-term.
Medical exercise training is very useful after the acute physiotherapeutic care phase. This helps to safely mobilize and strengthen the musculoskeletal structures. In the long-term, consistent medical exercise therapy helps to prevent further degenerative diseases and musculoskeletal pain.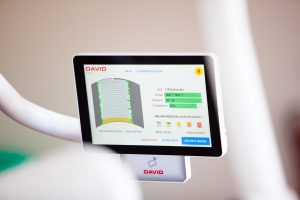 Device-based medical training is gaining traction in Germany, but many physiotherapy clinics are still not using this device-based approach. I believe this is because of insufficient space in clinics, lack of consistent patient flow, or financial fears.
Personally, it is no longer conceivable for me to think of medical training without DAVID devices. The synergy between physiotherapist, the EVE software and the DAVID technology cannot be produced by manual therapy. The controlled medical training and comprehensive data collection provide much more added value that manual therapy does not even come close. Our years of experience with the DAVID technology prove this to be fact.
Stefan's advice to future physiotherapy clinic owners
I would advise every soon-to-be physiotherapy clinic owner to integrate device-based medical training to their practice from the very beginning. Even if the initial investment is higher, the combination of physiotherapy treatment and medical training therapy "under one roof" is unbeatable in the long-term.
"The combination of physiotherapy treatment and medical training therapy is unbeatable in the long-term."
I believe that the success of our therapy centers goes to show that the future of physiotherapy relies directly on device-based medical training.
For more information, please visit the DAVID reference pages for the clinics: Therapiezentrum Angerbrücke, FPZ Rückentherapie Jena, and FPZ Rückentherapie Leipzig.