Five years ago, Rogan Hunter tried to shoot a goal during a basketball match, but his throw fell short of the ring. It was like all the power had gone out in his right arm and shoulder. Only 48 years old and having been fit and active all his life, it was a shock to the system.
Spinal stenosis diagnosis decreases confidence in strength and functionality
"I'd always had a bit of an issue with the right arm around the scapula (shoulder blade) area," Rogan explains.  "But it happened very quickly that I started to lose my tricep functionality. I tried to shoot a ball and I couldn't even get it up to the ring. It was very sudden."
Rogan started to explore options to diagnose and treat the loss of functionality in his arm and shoulder. 
"I went through a lot of different places checking it out, whether it be doctors or osteopathy experts." Rogan says. "We couldn't get to the bottom of it and we couldn't actually fix it."
Eventually, an MRI indicated that Rogan has spinal stenosis, a narrowing of the spinal canal commonly occurring in the neck and lower back. 
He had no confidence in his movement and his strength was questionable.
For an active father who loved basketball and surfing, it was a devastating diagnosis.  "I'd been able to do 80 push-ups, but by that stage I was down to three before I'd fall on my face," Rogan says. 
After a year of treatment and limited strength work, Rogan was able to get some functionality back in the arm and shoulder and resume activities.  But he had no confidence in his movement and says his strength was 'questionable'. 
"I weaved my way back into my activities, but not with much confidence," he says. "I went on like that for probably three years, but at a much lower level than I was happy with."
Medical exercise can be individualized for spinal stenosis treatment
Around a year ago, a family member suggested the getback program might be a pathway to rebuild Rogan's strength and movement. 
"I heard about this range of devices that allow you to build strength and flexibility through the spine," he says. "It was a case of 'why not give it a go?"
Twelve months after his Initial Consultation at Wauchope Physiotherapy & Sports Rehab Centre, Rogan says he is shocked at the difference.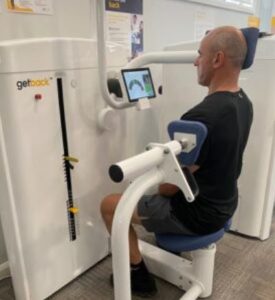 "The devices allow you to move within a controlled environment… you actually have confidence to put the energy into it."
"It's been amazing," Rogan says with a mixture of excitement and relief.  "I look back at the original charts and I was under average on strength and flexibility measures.  And on the last lot of testing I did, I was well above average on most things."
Rogan says the most important aspect of getback for him was the ability to precisely control loading and guide every movement during his tailored treatment program.
"The devices allow you to move within a controlled environment so that you actually have confidence to put the energy into it."
Maintenance program helps to strengthen and grow confidence
After completing his prescribed program, Rogan chose to continue with a maintenance program to keep improving his core strength.
Incredibly, he recently won a basketball premiership after competing in A grade for the first time at 53 years of age.  "I've never played that sort of level before," Rogan says. "I played with my son and we took out the Grand Final. It was bloody incredible."
Rogan's arm and shoulder problems had also put another of his favorite pastimes on hold, surfing. "I really struggled to surf before because the arm didn't have enough strength," he says.  "This year, I actually did my first surf trip away with mates to the Maldives. I just can't help but be grateful to the staff at Wauchope Physiotherapy."