After suffering years of chronic back pain, Mark Jans visited a local clinic and found the DAVID Spine Concept. Within a few weeks, he was relieved from the chronic pain and was so convinced with the results that he introduced the David technology to his own practice, WorkStrong Physiotherapy.
Changing an outdated mindset towards physical therapy
The clinic has an exercise physiologist that runs the DAVID Spine program. And there is a total of two physiotherapists. The clinic environment also includes a psychologist and podiatrist as additional services.
The clients find WorkStrong Physiotherapy through many different outlets. There are clients hearing about the clinic through friends and family, finding the clinic via a Google search, local business, and regular doctor/GP referrals as well.
Each day, WorkStrong Physiotherapy caters to a diverse group of clients. "We have plenty of patient success stories. Our clients are really happy with getting rid of their pain and being able to better manage daily life as a result of their consistent exercise therapy training" says clinic owner Mark.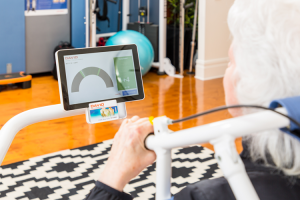 The physiotherapy clinic offers something new for everyone
For clients with sports backgrounds, the DAVID program offers a new and unique opportunity to see data and measurements of back strength and mobility. "For the very first time, these clients can visually see how strong they are, and the strength balances in all spine directions. When they first see the testing, they really can't believe it because they've never had the opportunity until now." Mark adds "We have footballers from a local semi-professional club who are using the DAVID device-based treatment program to correct strength imbalances in their spines, strength their backs, and be better prepared for the upcoming season. I wish I had this technology and exercise equipment when I was younger and playing football!"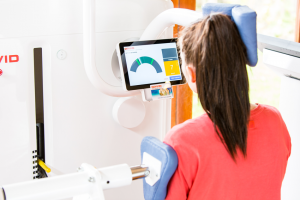 "When they first see the testing, they really can't believe it because they've never had the opportunity until now."
For those clients without strong backgrounds in sports, the Spine program offers easy and effective training. "The devices are easy for people to understand and use independently. Even for the patients who have never stepped foot inside a gym before" says Mark.
"Clients can feel the muscle isolation when they exercise."
There are also several clients coming to WorkStrong Physiotherapy through doctor referrals. These include transport injuries, work-related injuries, and whiplash patients from car accidents. "The rehabilitation results have been really good for these injury patients. When it's a mechanical musculoskeletal injury, the device-based therapy offers a controlled way to mobilize the joints without causing harm to the injured areas. Clients can feel the muscle isolation when they exercise".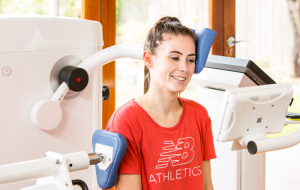 Whiplash patients that have found WorkStrong Physiotherapy, usually have tried every other treatment with no progress or success. The device-based therapy certainly provides an effective solution for them, and these whiplash patients are happy to finally be able to find relief and a solution to their pain.
New devices help target low back muscles even better than before
Mark recently introduced new DAVID devices to the WorkStrong Physiotherapy clinic, the G260 Hip Extension device and the G210 Leg press device.
"The two additional devices really complement the DAVID Spine Solution for the low back by targeting and strengthening the gluteal musculature" which greatly improves the Lumbo-Pelvic connection says Mark. Now, therapists can create a more holistic and versatile exercise therapy program for people coming to the clinic.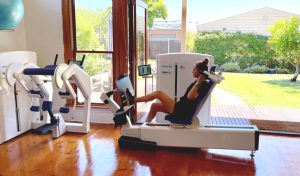 Feedback from clients confirms that WorkStrong Physiotherapy works
Hundreds of patients have gone through the WorkStrong Physiotherapy clinic's DAVID Spine program. There are several patient success stories that confirm that the clinic's approach helps reduce pain and strengthen backs. These Google reviews provide firsthand clients accounts of patient success at WorkStrong Physiotherapy.
"My doctor who I saw for a second opinion recommended WorkStrong after 3 months of persistent pain in my arm and shoulder from a work injury. My previous doctor suggested pills and injections, possibly surgery if it continued to persist. Clearly there was no need for this. I am very happy with the results from WorkStrong Physio. Mark's professional massage therapy for pain relief, and suggested exercises, as well as working with James using The David Spine System equipment, has really strengthened targeted areas of my neck, back and spine and I am now about 95% almost fully recovered." – Gina
"An injury at work to my neck and arm caused me severe pain and the inability to turn my neck, arm and generally lift or squeeze objects. But after having regular Physiotherapy and Exercise Physiology sessions using the David Spine exercise machines, I have reached the point of nearly being pain free and have returned to a normal range of movement. These treatments have changed my life and I believe without the help of both Mark and James I would have been forced to retire from work early and give up my love of scuba diving and going to my gym ." – John M.
"August 2017, I rated my back pain an 8 on a scale of 0 (no pain) -10 (severe). After attending twice a week for 4 months using these amazing machines at WorkStrong Physiotherapy, I can now say my back pain is around 1-2. I am getting my life back thanks to these wonderful machines which fix your back pain PERMANENTLY. I was skeptical at first, but the pain was getting so bad, I had nothing to lose. If you suffer back pain, I would highly recommend this affordable treatment – I am so thankful I found this place…7 months on from my last session and happy to report I am now able to go to the gym and lift weights, and 10 kg down since May, feeling great !"  – Jules N.
For more information on WorkStrong Physiotherapy, head over to their website!