Preliminary findings from over 500 patients who completed getback device based rehabilitation shows improvements in strength, range of motion and Oswestry were not only maintained, but had increased 12 months later.
Medical exercise equipment that measures spine mobility and strength
getback's device based spinal pain treatment and intervention enables research data to be collected from consenting patients. Six TGA-registered Medical Devices measure and record an array of data on both the Cervical and Lumbar/Thoracic spines.
The devices enable us to obtain valid and reliable data measurements of a patient's movement capabilities and also to quantify the amount of strength in the muscles we are targeting for treatment.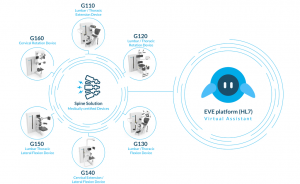 Data on every movement collected by electronic measurement allows us to identify weaknesses and their precise locations before we prescribe the getback programme.
An initial assessment to quantify function and disability is conducted prior to the commencement of the programme.
We also re-assess and review the data during treatment and at the completion of our programme. When these data show the patient has achieved normative values set for age and gender, the patient is ready to be 'discharged' from the programme.
The added value of Device based intervention with electronic data collection is that the information provided to Therapists ensures the correct prescription and exercise emphasis. 
Comprehensive testing of spine strength shows patient improvement
As part of our ongoing research, getback has assembled preliminary findings from a subject group in excess of 500 patients. 
The graphic below gives a patient example of the measures of Lumber/Thoracic Strength in Extension and Flexion. Our normative data tells us that the extension to flexion ratio should reveal Extension to be 62 per cent stronger. 
The graphic below shows this patient commenced the programme at a ratio of 41 per cent. It rose to 51 per cent at the end of the programme, and 12 months later with increased activity the ratio reached the desired 66 per cent. 
This imbalance in Extension strength often shows when patients have done some 'core' work with abdominals, but are lacking in the all-important back extensor strength. 
Informed by the measured data, the Devices enable us to focus on these muscles in the intervention.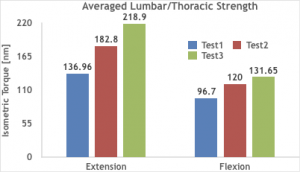 Another major component of our research programme has been a 12-month follow up with patients who have successfully completed getback Device based rehabilitation. 
The preliminary follow up data allows us to assess whether the results from the intervention have been sustained. It also informs and enables us to continually modify and improve treatment protocols.
In the majority of patients there is improvement in all Averaged Measures of strength (Lumbar/Thoracic in this graphic), expressed as percentage difference from both the beginning of the programme [Test1] to completion [Test2], but also small further increases at a 12-month follow up [Test3].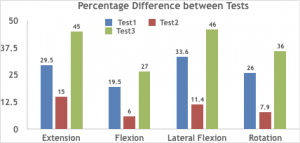 In our application of the Oswestry Disability Index there was a 71 per cent reduction in the Oswestry from beginning the getback programme to the end, and a further 12 per cent reduction in the Index score for Disability in daily function at the 12-month follow up. 
Similarly, measurements of Range of Motion in the Cervical and Lumbar/Thoracic spines have shown improvements over the duration of the getback intervention and the maintenance of these gains over the following 12 months. 
Anecdotal questioning of patients indicates that once they achieved functioning status during the getback programme, it enabled them to do more activity or resume what they had done, resulting in further increases.
Extensive data collection continues across Australian getback clinics
An integral part of our quality control research is to examine the data from several of our getback network clinics. The graphic below shows typical Cervical extension strength results expressed as percentage change data from three different clinics. 
This example shows how similar results are between clinics, highlighting one of the many advantages of using Devices with scientifically valid and reliable function.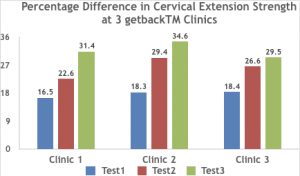 Currently getback is embarking on extensive data mining and collection in an expanding group of patients and clinics, with measurements taken post treatment and at a 12-month and 24-month post treatment interval.
This data is being modelled with predetermined scientific studies using the same devices. As we gain greater insights into the specificity of strengthening patients with chronic low back pain, we use these insights to educate patients and Therapists with the aim of improving patient outcomes. This process is ongoing, and as we gain a greater understanding, we are moving towards publishing our results.