Our EVE software platform is continuously being updated to provide our customers with the world's best musculoskeletal rehabilitation software. The Additional Exercise Library is an additional module that can be added to your center's or clinic network's EVE platform. The Additional Exercise Module contains a ready-to-use library of useful exercises. Veera Jakoaho, Head of Concept Development at David says "additional exercises can be used to complement and individualize patient treatment programs." In addition, "these additional exercises can be used in conjunction with device exercises during the physiotherapy visit or they can be assigned for patients to perform at home."
"Additional exercises complement and individualize patient treatment programs."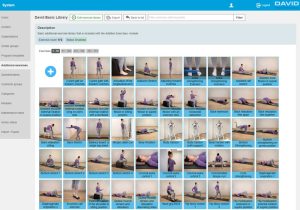 The Additional Exercise Library Module contains 300 illustrative pictures of physiotherapy home exercises. The library includes easy-to-follow videos of these exercises.
Exercises are grouped under specific keywords which enables filtering of specific topics. For example, all shoulder exercises can be easily pulled up when you select the "shoulder" keyword. You can also select multiple keywords to specify the search, such as in the picture below where the therapist selects the keywords "flexion" and "shoulder" to find exercises that target shoulder flexion. Note that the keywords are currently available in English only.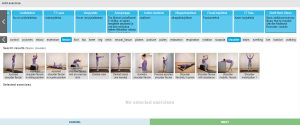 Create your own exercise libraries for physiotherapy patients
With the Additional Exercise Library Module, physiotherapists and clinic personnel can even create their own exercises libraries with different exercises.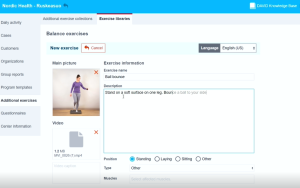 On the EVE platform, a physiotherapist adds a pictures, a video, and a description of a balance exercise. This can be completed in your local language as well.
Useful physiotherapy exercises to treat musculoskeletal pain
Physiotherapists and clinic personnel can add additional exercises to patient exercise programs directly. This is done by simply adding the exercises from the library to the patient's individual treatment program in EVE. While training in the clinic, the patient sees these exercises on the Info-Kiosk.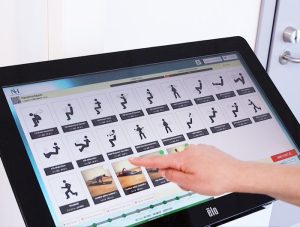 The DAVID Exercise Kiosk provides an easy-to-follow way of completing the additional exercises while in the clinic.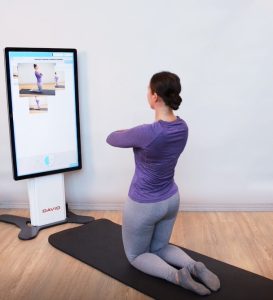 Home exercise programs support the patient's treatment
Home exercise programs are also possible. The physiotherapist can print out the home exercises and even send them via email directly to the patient. This includes detailed instructions of the exercise, as well as how many repetitions and in which movement direction.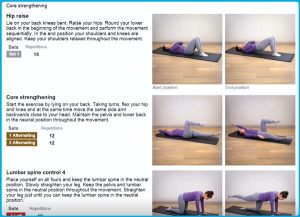 Learn more about EVE via the David Academy
The David Academy provides clinic instructors and personnel with the tools to get the most out of EVE. Easy-to-follow videos provide useful tips and tricks on how to navigate the software. Here, you can find all you need to create comprehensive exercise therapy programs for patients.