Physiotherapy clinic in Sweden provides medical back pain treatment
Elisabeth Olsson and Peter Brandwold are physiotherapists who work at the Sports Club clinic in Vallentuna, Sweden. The Sports Club clinic utilizes the DAVID Health technology focusing on the DAVID Spine Solution.
Peter has worked with the DAVID solution for a little over six years. During this time he and has seen amazing success stories from young adults to older people. "There was a long-distance runner who had just had a disc operation and he came to me three weeks after surgery for the rehabilitation treatment program. At first, I told him it was too soon but after approval from his doctor we began working on the DAVID devices following the normal program with two sessions a week. Within 6 months of the surgery, he was back to long distance running" says Peter. Exercise therapy can be useful for both pre- and post-surgical rehabilitation, with a doctor's approval.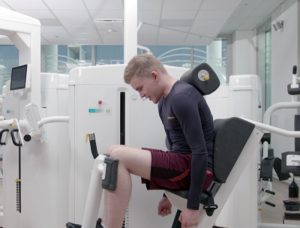 Testing helps therapists locate muscle weakness areas for targeted treatment
The testing functionality in the DAVID devices can also help to target the right areas in the back. "A staff member at the gym had pain in her side and her doctor just attributed it to muscle weakness. However, after doing a few tests on the DAVID lateral device, we were able to find the location of the muscle weakness and were able to train it. We ended up doing two periods of sessions, so 24 weeks of the exercise therapy program. She is now living pain-free."
Testing mobility and isometric strength in all different movements is possible with the DAVID medical exercise equipment. "The DAVID devices target specific muscles and is great because it is so easy to use and does not require any extra warm-ups or exercises".
Exercise equipment and technology provides the world's best medical exercise
The DAVID exercise equipment is unique because of its high-tech functionalities including an exercise screen to follow, automatic seat adjustments, and an AI software platform. Nevertheless, DAVID equipment is patient-friendly. "The patients usually find the DAVID devices a bit confusing in the beginning because they have not seen anything like this. But after 1-3 sessions they are already able to train by themselves with little to no help."
Elisabeth and Peter are excited to add new Hip and Knee as well as Shoulder exercise equipment to the Vallentuna Sports Club. This will help extend treatment possibilities to more patients than ever before.