As the CEO and Head Physiotherapist at NOP (Neuro Ortho Physio) clinic in Zagreb, I have seen how the active rehabilitation approach helps decrease musculoskeletal pain and improve the quality of life for our patients.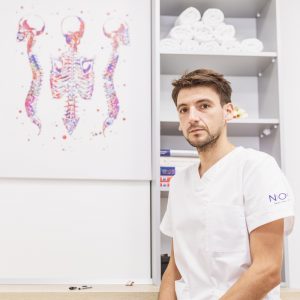 Mario Klasic from the NOP clinic.
The NOP Clinic approach focuses on the patient's needs
At the NOP Clinic, when a patient comes in, we first conduct an initial assessment. Here, we assess their musculoskeletal pain problems and medical background. We decide whether to start with manual therapy or if they are ready for the active rehabilitation program. When a patient has severe or chronic pain, we begin with manual therapy to alleviate their problems, before they are ready to start the active rehabilitation with the DAVID devices.
In this treatment program, patients exercise independently using the DAVID devices. We spend the first 2 to 3 sessions, teaching how to use the devices. After this, they can do the exercises by themselves.
Of course, we are always there to help and support them. Our physiotherapists also follow along on the EVE platform as patients exercise. Here, we can see their training in real-time and react if something is wrong. For example, the person's compliance score is low, or they gave feedback that the exercise was too difficult. Then the physiotherapist can immediately react to the problem and figure it out with the patient.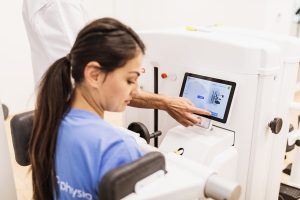 The DAVID G150 Lateral Flexion device provides medical exercise for the spine.
Patients keep coming back because they finally see real results
There is a clear trend that doctors continue to believe in passive treatments, while patients are finding recovery success through active rehabilitation. In fact, our customers keep returning after a few months of completing their rehabilitation program. They realize to stay pain-free, they must continue to be active. And at our clinic they know that the exercises are safe and controlled, and the program works.
At NOP clinic, we cater to patients from 14 to 72 years old. Overall, we get very positive feedback from customers. They find the devices easy to use and can independently train once they are in the prevention program.
Our active rehabilitation program has a success rate of almost 90%.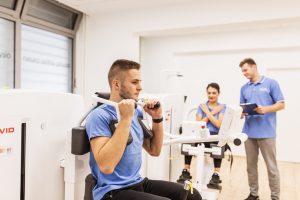 David Spine Solution includes 6 medically certified devices for active rehabilitation.
Our active rehabilitation program has a success rate of almost 90%. The patient cases we cannot fully rehabilitate are mainly severe cases. This can include patients that have been in dangerous accidents, or pain that has gone untreated for several years.
A hopeful future for active rehabilitation in Croatia
At NOP, we plan to expand our clinic to provide active rehabilitation for Shoulder as well as Hip & Knee complaints. There is clear success in active rehabilitation for treating musculoskeletal problems, and we are bringing it to Croatia.