In 2015, St. Lucas decided to upgrade their clinic with DAVID's new Generation Line devices and EVE (E-Valuated Exercise) software platform. This upgrade improved their capabilities significantly.  Earlier they had tried to incorporate additional exercises and questionnaires into their electronic patient record, but it was difficult. They were all separate systems and included physical paper copies which had to be digitized. With EVE, patients are automatically given pain-score questionnaires based on pre-set commands and the data is stored for personnel to access when needed. Incorporating the EVE system makes all of these functions much easier to monitor and control. Also, this allows for more controlled and precise treatments.
Having the EVE system makes our work much easier for us as we have everything under one umbrella.
After a few months of training with the new system, patients were highly motivated to train on the new devices. They like the controlled movements much better. They like that they can operate the devices independently and follow their movement, repetitions, and compliance percentage (how well they had followed the prescribed exercise). When the clinic compared the outcomes, they could see bigger improvements for their patients with this controlled method. "Having the EVE system makes our work much easier for us as we have everything under one umbrella. It is easier to show patients their progress through the reports that track pain scores, strength, and mobility" Luc van Compernolle points out.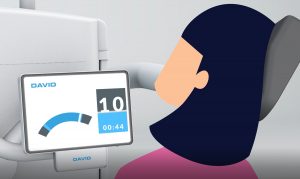 One of the key components in the DAVID rehabilitation system is a computer terminal in each device which guides the patient throughout the training and provides immediate compliance result afterward. This empowers the patient and builds up independence.
The EVE system supports physiotherapists in numerous ways
The clinic's physiotherapists have now more time and can offer a better quality of care to each patient. Before, they had to help patients get into and out of the devices and control all exercises, but after adjusting their personal settings during the first session, the patients can do these by themselves with the new devices. The therapists use this additional time to help patients learn extra exercises and improve the overall care given to them.
It has transitioned the physiotherapists from manual workers to brain workers because they do not need to do as much manual labor anymore and can focus on giving guidance as well as tend to other needs the patient may have. They are also looking forward to the ongoing software development that will improve the user-friendliness of EVE in prescribing additional exercises and at-home programs to patients. This helps because the less time physiotherapists allocate to these tasks, the more time they can devote to patients.
The less time physiotherapists allocated to administrative tasks, the more time they can devote to the patients.
This approach can help redefine tomorrow's physiotherapy practices
The current challenge is to convince the medical world and the society that exercise-based rehabilitation is the most effective method. However, Dr. Soenen says that the method is finally getting the attention it deserves. Patients appreciate being in the program because most have too much pain or immobility to go back to work. The doctor and the patient want to be able to alleviate the patient's pain and improve overall functionality. Furthermore, the government is pleased when these people can get back to work since work-absenteeism is a tremendous financial burden. An exercise therapy program like ours costs next to nothing when you compare it to the other options.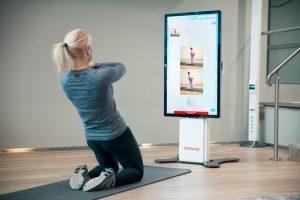 The system includes an additional exercise module with a standard exercise library but clients can also use their own pictures as St. Lucas has done. Patients retrieve their personalized exercises with an RFID card on big screen, which guides and documents all completed exercises.
It still amazes Dr. Soenen that not more of his doctor colleagues are utilizing this active rehabilitation method. Of course, there are big differences in the results of the different clinics. This is based on the devices and software systems being utilized. "As one of the top three back and neck rehabilitation centers in Belgium, we have been extremely pleased with DAVID".
"Our results speak for themselves and we hope other hospitals and clinics realize the true advantage active therapy has in rehabilitating musculoskeletal problems" Dr. Soenen finishes.