I am Kurt Wouters and I manage the Spine center at GZA Hospital Sint-Augustinus in Antwerp. I have been doing physiotherapy for roughly 20 years now. In the beginning I was mainly focused on manual therapy, but gradually I have moved towards a more hands-off approach. About 10 years ago I started working with the hospital's rehabilitation program, which at the time, mainly focused on the lower back.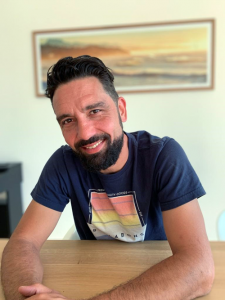 For the past 4 years the program has transformed into a full cervical spine treatment. Our approach revolves around device-based exercise therapy. The clinic used to have Genius and Gymna devices, until just last year when we switched to DAVID. This change has had a significant impact on our center's quality control and operations.
The back center caters to a variety of patients
All patients come to the back center through internal doctor referrals from the GZA Hospital. The center follows a comprehensive approach including doctor visits, ergonomics classes, stability exercises, and device-based training. In terms of patients, many come in with general back pain complaints and problems. But we also have post-operative patients who have undergone spinal fusions and laminectomies, for example.
With 100 to 150 patients a day, we really cater to a wide range of people.
The device-based therapy is great because it is suitable for both young and elderly, as well as ones with strong sports backgrounds and those without. With 100 to 150 patients a day, we really cater to a wide range of people. After our switch to the David devices last year, the way our clinic and staff operate has improved.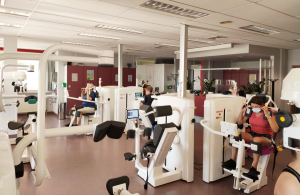 Patients exercise on David Spine devices at the GZA Hospital Spine Center.
The Spine Center's quality control operations have vastly improved
When making the decision to switch the clinic's devices, we considered several factors, mainly regarding safety and usability.
The ease of use in the DAVID devices and software stood out for us. We could easily adjust the range of motion, weight resistance, and speed for any patient with just the use of our instructor RFID card. The software automatically saves the settings and reduces our work time. With the previous system this involved many more steps and was very time-consuming for our staff.
The previous system was very time-consuming for our staff to use.
The software also allows us to have an electronic patient file for every person. Here, we can upload all relevant files so a comprehensive overview of a patient's diagnosis, treatment, and progress is always available in the EVE system. Previously, these files were stored in different locations making it more difficult to keep track of a patient's documents and data. This has been a big help and time-saver for our clinic.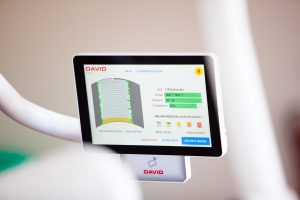 Patients notice the difference in technology too
The difference in the exercise devices is not lost on the patients either. Before, therapists asked patients feedback directly, but now this practice has had an upgrade.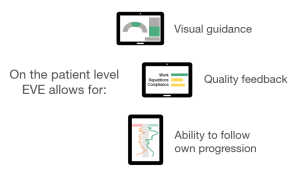 The EVE system is automatically gathering all exercise data in real-time. So, our therapists know better when their patients need assistance or changes to their program.
Before the patient can complain about something not feeling right, we are there working to find a solution with the person

. 
While a patient is training, our therapists are monitoring exercises and compliance scores through EVE right there in the same clinic environment. For example, when the patient is exercising, the therapist may notice an issue with the patient's training like a disbalance between the right and left, which could cause pain or injury.  In this case, the EVE system may show us in real-time that the patient's exercise compliance for the right side is 95% while on the left it may be 46%. This disbalance clearly shows that something must be changed, for example in the weight, speed, or repetition count. Before the patient even has time to complain about something not feeling right or that they are experiencing pain on the left side, we are there working to find a solution with the person.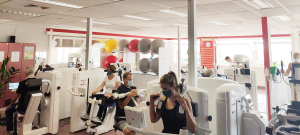 The GZA Hospital Spine Center keeps patients safe and healthy during the pandemic.
EVE software helps physiotherapists to be aware of patients' needs
Our patients feel really helped by our staff because we are there asking questions before they even bring up the possible problem themselves. Sometimes they might not even realize these problems and we can resolve them before serious harm occurs. The EVE system helps because our therapists can look through each exercise the patient completes and find possible problem areas that need our immediate attention.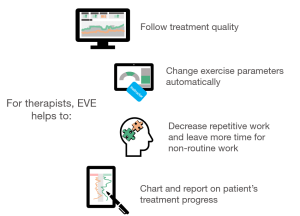 Two times a year we do an anonymous patient survey to get feedback on our clinic, the programs, classes, and so on. And every year our overall satisfaction rate has been over 90%, so people are really content about what we do. The scores have only improved after we took on this new approach. We will continue our work in not only improving rehabilitation outcomes, but also in improving the quality of life for our patients.
Check out the AZ Sint-Augustinus reference page as well.
Head over to our blog archive to find more testimonials and clinic stories that share the power of technology and exercise therapy!