The FPZ Concept was developed in 1990 as a German-Finnish scientific collaboration to treat people with back pain. The treatment program was developed by a team of experts led by Dr. Achim Denner. The team successfully tested and developed the concept with more than 120,000 patients. To learn more, read Dr. Denner's personal blog article on the revolutionary back pain research done.
FPZ: A revolutionary concept for back pain relief
The FPZ Concept is a specialized treatment program that helps patient receive back pain care through participating insurance companies. Over a 100 certified FPZ back centers can be found throughout Germany.
Once at an FPZ back center, the journey to back pain relief begins with a detailed analysis by a doctor. Strength and mobility testing are done using the DAVID devices to better understand the patient's starting point and areas of weakness. Then, a physiotherapist creates an individualized treatment program based on these results. The training program consists of 10-24 different exercises on the DAVID devices, lasting for one hour. The patient visits a clinic 2 to 3 times a week and exercises under the care of a specially trained FPZ back pain therapist. A maximum of three patients train at a time, to guarantee that the therapist can offer individual care for each patient.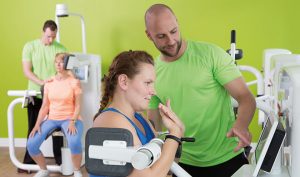 The FPZ Concept has been able to help hundreds of thousands of patients find relief for their back pain through the DAVID-device treatment program. Here are just a few of those success stories.
Success stories: patient testimonials from FPZ back centers
The patient testimonials, originally featured on the Rückenzentrum Wittstock website, share experiences of how four individuals were able to achieve back pain relief. The patients were able to regain strength and mobility in their backs, all through the insurance-backed FPZ Concept.
Sören: From sore muscles to back pain relief
Sören has been active his entire life. The 47-year old has been an active athlete since 1998 and regularly visits the gym.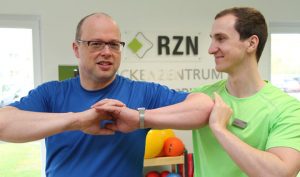 Nevertheless, the nurse has been suffering from pain in his cervical spine, shoulders, and back for over 2 years. The pain occurred especially when working with patients. "I always thought that I was already doing enough sport, but it just wasn't enough," says Sören.
Sören's health insurance company advised him to visit the RZN back center in Neuruppin and offered to cover the costs of the FPZ back therapy treatment. After a doctor's consultation at the back center, Sören was approved for the program.
It only took a few training sessions for Sören to find pain relief.
For Sören, device training was something completely new, despite his extensive experience in sports. There were of course sore muscles in the beginning due to the new movements. But it only took a few training sessions for Sören to find pain relief in the back therapy.
The final functional analysis of his spine showed significant improvement. Sören's back was stronger and his pain complaints decreased. "I have to thank my health insurance for the tip, because the training program definitely helped me and I am completely satisfied with the support from the therapist and the devices" emphasizes Sören.
Christina: "I could feel inactive muscle groups being reactivated"
Christina is looking forward to spring, because this year she wants to do more in the garden again. Thanks to her therapy at the RZN Back Center Neuruppin, this is now possible again.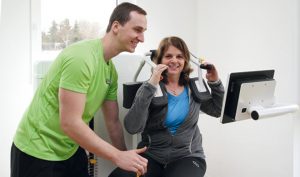 The 53-year-old suffered from permanent pain in the neck and lumbar region for over a year. Despite regular sports, the pain came back again and again due to her mostly sedentary job as a dental assistant. After a medical appointment with an orthopedist, she went to a clinic for manual therapy. However, this did not bring the desired success or relief for her pain.
Christina turned to her nearby FPZ back therapy center. Training on equipment was new for her, but it was not difficult to learn. Special muscle groups were trained, which left her with a pleasant feeling after each workout. "I could feel inactive muscle groups were being reactivated," said Christina.
In addition to device training, she was shown stretching and floor exercises for her to complete at home by her therapist. She still does these at regular intervals. She also visits a nearby fitness studio 1-2 times a week to not lose the success of the therapy.
Petra: Regaining confidence through exercise therapy
After suffering for more than two years with pain in her neck, shoulder and arm, 53-year old Petra finally got answers. She had a herniated disc in her cervical spine which caused pain to extend from her shoulder to arm and hand. After undergoing surgery, Petra's body had internalized a protective posture. This made her situation worse as it caused atrophy in her back muscles.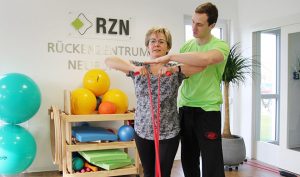 Petra had to lose the fear that something bad could happen to her spine during each exercise.
Once starting the device-based training, Petra had to first adjust to the devices and above all lose the fear that something bad could happen to her spine during each exercise. "Little by little, and thanks to the advice of the therapist, I became more confident. The weight loads were slowly increasing and today I enjoy the training."
Sten: "After 12 sessions, I have a lot more back strength"
It all started with a fall in 2014. Sten, a professional plumber, luckily did not suffer serious injuries, but after the accident he developed severe back pain which grew worse week by week. His vertebrae were in such bad shape that often he could not stand or sit without discomfort and pain. Sten took a break from sports, but the pain complaints only increased.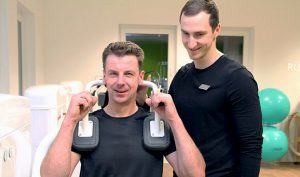 When the 46-year old could not work anymore because of the debilitating back pain, he sought help from his health insurance company. He started training at the Neuruppin FPZ back center. After only 12 training sessions, Sten says "I already have a lot more strength. My therapist has already increased the weight load on the equipment and I am still able to train comfortably."
Be sure to visit the FPZ Rückenzentrum Wittstock's reference page for more patient success stories and information!