Fysius focuses on developing expertise in back, neck, and pelvis pain
I am Eline Termaat and since 2018 I have been the CEO of Fysius Group. Fysius is a growing organization with a unique specialized concept in which evidence based healthcare is the leading factor. Our 140 back experts work with their hearts and are really focused on people helping people. This combination makes Fysius a great place to work.
We have 35 locations in the Netherlands. We specialize in back pain, neck pain, and pelvis pain. All our physiotherapists are trained in-house through our own Fysius academy. Our people become back experts and their work revolves around the spine which helps them develop their expertise and provide better care.
We see more than 35,000 clients walk through our doors each year.
We see more than 35,000 unique clients walk through our doors each year. A lot of our clients have suffered from their back pain for more than 10 years without ever finding a solution that works. We are then able to use our approach to treat these patients who are always surprised and grateful for this.
At Fysius we combine a scientific-based approach with empathy. Our treatment programs are based on science, but we also take the time to listen to the client and understand them better. This combination has really shown great treatment results.
Our individualized treatment programs are backed by data and science
At Fysius, we do not focus on the area that is in pain, but we look at the whole individual. This includes what they do, how they live, eating habits, social environment, and so on. We look at the full situation of the client and with all this information we put together a treatment specially made for that individual.
With the information and data we collect from our patients, we optimize our treatment concepts. This insight helps us improve our treatment programs and find what really works. It is a unique approach in the physiotherapy world to focus on the data.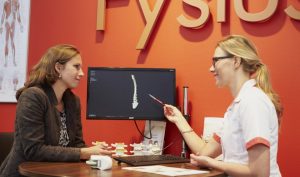 Back pain is treated with David technology
We use the David Spine flexion and Spine rotation devices at our Fysius locations. Our physiotherapists are happy with these devices because they are pleasant to use for clients and because of the data collection. When our patients exercise on these devices are we able to collect important information and follow their treatment program and track their progress.
Device-based therapy is a critical part of the Fysius treatment concept.
When a new patient comes to Fysius we first do an extensive assessment which helps to shape their individualized treatment program. I would say 95% of our patients go through the device-based exercise program which includes the back flexion and back rotation devices. Device-based exercise therapy is really a critical part of our treatment concept at Fysius.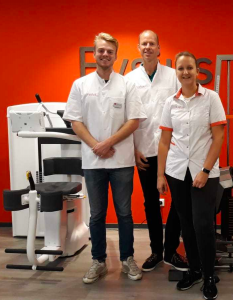 90% of our clients have great results and reduced back and neck pain
With all the data we collect, we can also track the progress our clients make throughout the treatment program. About 90% of patients that go through our program end with great improvement results. We are very proud of this because it goes to show that our approach works.
The recovery results depend on many factors. This includes the patient's lifestyle, whether they complete our home exercises, and their overall desire to improve their pain outlook.
More than 90% of our patients are very happy with the Fysius approach. This is remarkable since most of our patients have already seen about 5 different specialists before coming to us. I think it also shows their dedication to treatment program and trust in our efforts.
The future is bright for Fysius Group clinics
Since 2018, we have built 7 new locations and our expansion plans continue. Of course, with the current COVID-19 pandemic, this has affected our locations. At this moment we are again fully open at all of our locations. We are able to help over 7000 clients every day and that is something I am quite proud of.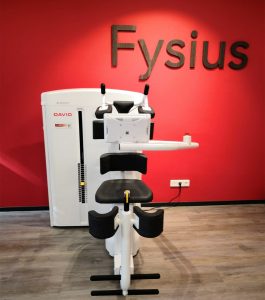 Be sure to visit the Fysius Group reference page for more clinic information!