Laurent is fairly new to Samcon and took over the company only 1,5 years ago. Samcon and DAVID's history dates back to the late 1990s, when the previous owner came in contact with the David Solution. DAVID quickly became the company's most important supplier, because of the strong medical background behind its technology. Samcon cooperated with some leading rehabilitation centers and began a long-term project utilizing the David Solution which ended up transforming the back-rehabilitation outlook in Belgium. This project is detailed in our article on the St. Lucas hospital in Bruges, Belgium.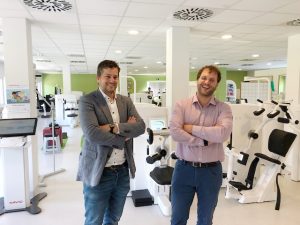 Laurent de Coster (left) and Sales Manager Dries Vandewall at the rehabilitation clinic in Belgium's St. Lucas Hospital.
Medical rehabilitation technology sells well
Samcon is known on the market as one of the best distributors of medical rehabilitation technology. According to Laurent, there are several important factors that helps Samcon compete in the Belgium and the Netherlands. "DAVID is seen as very innovative and the technology is high-quality. The biofeedback feature that the devices deliver is extremely important".
The biofeedback and real-time data are important features for customers in these regions.
In these markets, the data is the most important factor because "it shows the rehabilitation outcomes and progress in a clear, understandable way." This is the main driver behind the success of the reimbursement protocols as well.
The market reach is big and continues to grow. The main customers in Belgium are hospitals and orthopedic centers who can fully utilize the reimbursement model for patients with chronic back pain. Examples of this include AZ Alma and St. Lucas hospitals. In the Netherlands, there are over 80 physiotherapy clinics that have already incorporated the David Spine Concept.
In addition to offering an innovative solution, "our unmatched service helps make us a market leader in Belgium and the Netherlands."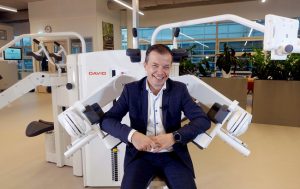 Netherlands Sales Manager Jan Burghout in the G660 shoulder device. 
Collaboration is key
Although Samcon and David Health Solutions have a long history together, it is open communication that has been the key to their co-operation. "The most important element is the completely open communication between the different layers of our companies. All of our salespeople and technical specialists have direct communication with DAVID."
Problems are directly solved and there is a strong willingness to help each other.
Samcon's high quality of service and after-sales service relies on quick reaction times from both Samcon and David. This can only happen with both sides working closely together. "Problems are directly solved this way and there is a strong willingness to help each other out" says Laurent.
We at David Health Solutions are grateful for the work Samcon has done in the past and present. We look forward to a long and prosperous future together.

Interested in becoming a distributor for David Health Solutions? Get in touch with us!