Our EVE software platform is continuously being updated to provide our customers with the world's best musculoskeletal rehabilitation software. For those healthcare professionals working with EVE, you will notice a few key changes have been made to the software.
Click on the link to watch a video!
Diagnose-based program templates for all EVE users
One important improvement to EVE, is the new program template collection that is available for all users on EVE.
The ready-made templates provide rehabilitation programs for different disorders to treat the spine, neck, shoulder, hip and knee.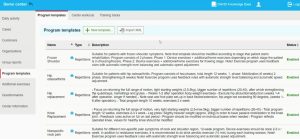 Diagnose-based templates consist of device exercises as well as suggestions for appropriate additional exercises and home exercises. To be able to use additional exercises in templates and assign them as home exercises, your center needs to have the Additional Exercise Module.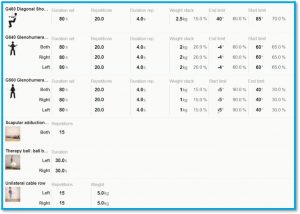 Diagnose-based program templates are created based on a holistic view of the body and its functions. For example, for lower back disorders, the program templates include spine device exercises but also exercises that target lower extremities to improve their function. This ensures optimal muscle activation, function, and balance. The additional exercises and home exercises support the rehabilitation progress outside of the clinic. Additional exercises come with illustrative pictures and descriptions and can be sent via email or printed out for the patient.
We also offer general templates for Spine, Shoulder and Hip & Knee devices that are suitable for treating a broad spectrum of disorders. These templates are also suitable for centers that only have the Spine devices for example. In this case, the spine template consists of exercises on the Spine devices only. General templates also include strengthening programs for healthy men and women. These templates include all devices in one program.
EVE questionnaires make data collection a breeze
The EVE Questionnaire Module has now been totally upgraded and includes a vast number of ready-made validated questionnaires. Questionnaires can be found in different languages including English, German, French, Dutch, and Spanish.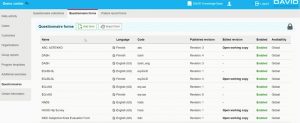 How does the Questionnaire Module help make reporting easy and eliminate unnecessary paperwork?
All EVE questionnaires have ready-made calculation formulas which make progress evaluation and reporting easy. This means your center does not have to rely on paper questionnaires or the manual work of calculating questionnaire results. Questionnaire results are automatically calculated and immediately saved into the EVE system and can be used as part of the Case Reporting System.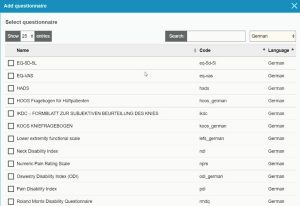 How do clinic personnel assign questionnaires to their patients?
In EVE it is easy to send questionnaires via email or they can be filled in on the Info-Kiosk together with a patient. All questionnaire results are automatically saved in EVE.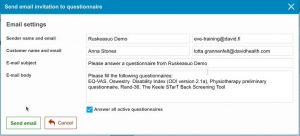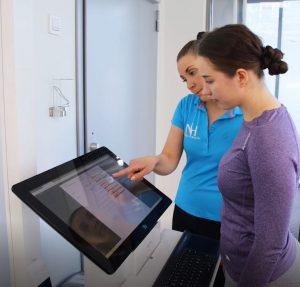 Additional exercises improve rehabilitation process for patients
Additional exercises are an integral part of the treatment program. They can be used in conjunction with device exercises and assigned to a patient to perform at home. This way therapists can ensure an ongoing therapy process even outside clinic visits. Many conditions have unique characteristics which require targeted and specific exercises to support the device exercises. By complementing device exercise programs with additional exercises, therapists can individualize the treatment program even better.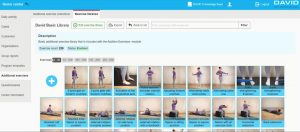 The EVE Basic Library has now been renewed with illustrative pictures and videos as well as detailed descriptions. Exercise descriptions are available in different languages including English, German, French, Dutch, Spanish, and Korean.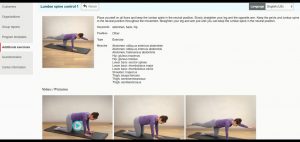 The Exercise Library contains over 200 exercises for early and later stages of rehabilitation. The old, animated pictures of the basic library have been replaced with new, more illustrative photos. The new library also contains exercise videos to clarify exercise techniques. In EVE, doctors, physiotherapists, and clinic personnel can also create their very own exercise libraries.
The exercises are easy to assign to patients. When they visit the clinic, the exercises appear on the Info Kiosk. In EVE, it is easy to email the home exercises directly to patients. It is also possible to print out the exercises with pictures and instructions for patients to take home.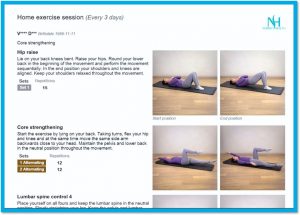 In EVE, it is also possible to group exercises into exercise collections by utilizing the pictures in exercise library. By creating exercise collections for certain diagnoses or disorders, you can streamline treatment pathways. These collections are easily assigned to patients in EVE.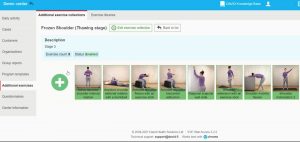 Learn more about EVE via the David Academy
The David Academy provides clinic instructors and personnel with the tools to get the most out of EVE. Easy-to-follow videos provide useful tips and tricks on how to navigate the software. Here, you can find all you need to create comprehensive exercise therapy programs for patients.
Not a DAVID customer yet? Have a look at David Academy to learn more!