The physiotherapy center operates within Manipal Hospitals Malaysia in the field of Physiotherapy and Rehabilitation. The center has the full range of DAVID devices including the latest G-line Spine, Shoulder, and Hip & Knee Concepts. These patient success stories were written by the patients themselves to show their successful recovery journeys that were made possible at the hospital's physiotherapy and rehabilitation clinic.
A remarkable recovery is possible with perseverance and accurate technology
The student patient had to learn how to walk again after suffering a traumatic brain injury. The David devices helped her regain muscle memory in her hips and legs. 
I was a 4th year medical student when my accident happened. The accident left me with a Traumatic Brain Injury (TBI), fractured base of skull, right femur, left tibia, left fibula and a left bimalleolar fracture. I also sustained a right parieto-temporal and right cerebellar injury. Stiffness, rigidity and imbalance had become a norm for me. Thankfully, I went to Manipal Hospitals Klang.
I needed to re-learn every movement. No, it was not akin to a baby learning to walk. It was much more difficult than learning to do a new task. In simple words, your own body retaliated against the task that you wanted to learn. From simple exercises like teaching me to roll over from supine to prone position to learning how to stand, the staff in Manipal Hospital have helped me tremendously.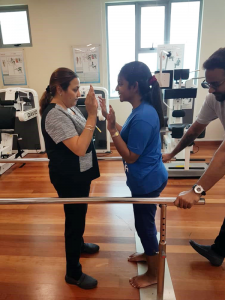 We started by practicing cycling. Then I progressed to muscle training by resistance bands. I was made to do hip abduction and adduction, knee extension and flexion, leg press, and other David machines. These devices helped me train and regain my muscle memory. I was then able to ambulate better and more independently.
"These devices helped me train and regain my muscle memory"
From being on a wheelchair, I was then able to ambulate using a walking frame, a walker, then forearm crutches. The staff in MHK have always been kind, patient and understanding towards me. They were very professional in their work. They always had a goal for me to achieve for the day. This never brought out the inhumane side of them. I was never rushed through any exercise or task. They have always been committed to bringing out the best in me.
Strength training resolves a prolapsed disc and nerve impingement
Dr. Sharifah Azlin Juliana M.D., was able to regain back strength in just a month of exercise therapy.
I suffered from prolapsed disc L4, L5 with nerve impingement in early 2017 due to a diving injury. Subsequently I had numbness and weakness of my left leg and I walked with a noticeable gait. I noticed that after only 3 sessions with my excellent physiotherapist together with the aid of David Spine Concept equipment, my weakness started to improve by leaps & bounds! I believe it has now fully resolved with further strength training. Thank you very much to the physio team Manipal Hospitals Klang. I am very thankful I found the right equipment & met the right trainers! I would definitely recommend this rehab therapy to anyone who has the same issues.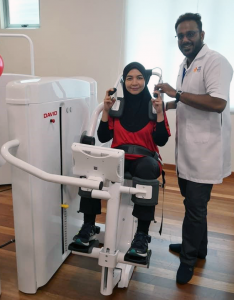 Dr. Sharifah exercises on the G130 Lumbar/Thoracic flexion device.
Dr. Sharifah's spine profile shows her strength and strength balance improvements. The midterm test was taken after just a month of the 3x-week device-based exercise program.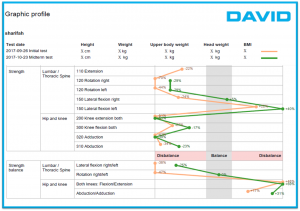 As shown in the numeric data below, during this time, Dr. Sharifah achieved significant strength improvements in lumbar spine movements. Also, her strength measurements for hip and knee improved, including a 16.5% increase in hip abduction strength.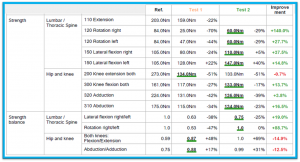 The proven treatment fixes weak core muscles and relieves lower back pain
Mr. Inbarajan Marimuthu suffered severe neural foreman and mild spinal compaction. Thankfully, he was able to strengthen core muscles and find pain relief in the hospital's physiotherapy program.
I am writing to say thank you very much for the wonderful care I received as an out-patient for my lower back pain at the Physiotherapy Department (DAVID) of Manipal Hospitals in Klang. My pain reduced drastically after completing 24 sessions using DAVID Spine and Hip & Knee program. Each workout session was monitored by a dedicated physiotherapist who could give me personalized attention. The treatment was effective and was of great relief. After only a few days I was able to do a little more than I normally do. Before this I had been in such pain that it was even difficult to walk or bend down.
Before I sought David's program treatment, the orthopedics consultant confirmed that my lower back pain is referred as severe neural foreman and mild spinal compaction in medical terms. This was based on my MRI report. I was not sure what treatment to seek until I spoke to Head of the Psychotherapist Department who recommended and advised me to try the DAVID Spine and Hip & Knee program.
The doctor described that the program uses a combination of machines as part of exercise to strengthen core muscles. It was an exercise program with a dedicated physiotherapist whom, from day one till the end of the program, guided and monitored my progress me in the workout sessions. He could not have been more kind, caring and good instructor, he gave me so much information and left me with a positive attitude.
"I believe it is a breakthrough in medical science using this technology as medicine"
I wish to say thank you to DAVID's treatment since I managed to recover from my lower back pain. I believe it is a breakthrough in medical science using this technology as medicine and treatment. I would also like to thank you and the Physiotherapy Department staffs for they were all so welcoming, kind and caring too.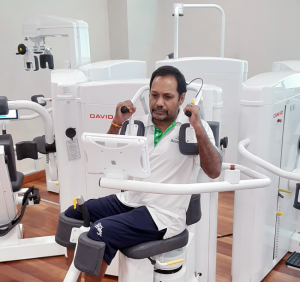 Mr. Marimuthu exercises on the David G120 Lumbar/Thoracic Rotation device.
We at David Health Solutions are always excited to share such inspirational patient testimonials. We are grateful for the doctors and physiotherapists who make these success stories possible and are happy that we can be a part of a patient's successful journey.