Henna had a nasty fall in a badminton tournament in October of 2018. It is the worst injury she has sustained during her 10 years of playing competitive badminton. The doctor's diagnosis was a torn ACL (anterior cruciate ligament). As a former national player, and competitor in many European and World Juniors tournaments, she thought this could have a lasting impact on her ability to play.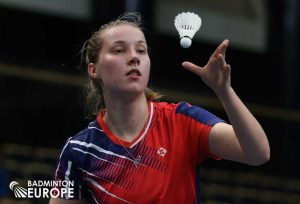 Henna competing at a European-level tournament.
Can physical therapy be painless for an ACL injury?
After hearing the diagnosis, Henna began training at the Nordic Health clinic in Helsinki. With the help of the physiotherapist, they created a rehabilitation program which used very little weight resistance but included several repetitions. This was done easily using the EVE platform and made it possible for Henna to visit the clinic and train independently. "I was happy I could do the rehabilitation program on my own."
The rehabilitation program included limited weight resistance and several repetitions.
The main devices used for Henna's knee rehabilitation were the G200 knee extension and G300 knee flexion. The G200 was used for eccentric strength training to target the muscles which stabilize the knee joint. Training on the G300 helped to improve Henna's knee mobility and strength. Her program also included functional training exercises which she could do at home.
She completed the treatment program 3 times a week for a total of 5 months. "I am an active person, so it is a relief to rehabilitate my knee in an active way". For a previous injury, Henna relied on manual physical therapy, but she believes this is a different method altogether.
How does the EVE report inform athletes?
Henna likes the results-based approach of the David devices and EVE platform. "I personally like fact-based results and data. And it is interesting to see my progress in the profile reports. Also, the feedback I get from doing the exercise reassures me that the movement is safe and effective."
It is interesting to see the progress data, not only on the profile reports but every time I complete an exercise.
Due to the torn ACL, Henna's initial range of motion had to be very limited. "We could easily change the range of motion so that the movement wasn't painful for me. Slowly as my knee got stronger, the physiotherapist increased this range of motion. And the program added more weight resistance depending on the feedback I gave after completing each exercise."
What does the EVE profile report tell us?
Going over Henna's EVE profile report, it's clear to see that the 5-month rehabilitation program and her own persistence pay off. Suvi Teivainen, the physiotherapist at Nordic Health, sees signs of improvement.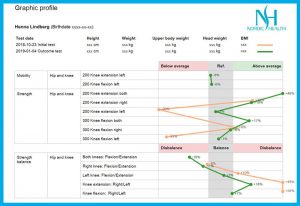 Henna's EVE profile report. Personal information removed.
"The isometric strength tests done with G200 show Henna's strength improvement. For example, on her injured left side, there is a 61.9% increase in strength." says Suvi.
Her ACL injury caused a clear strength imbalance, shown in orange. Now, Henna's left and right knee extension and flexion are close to being in balance. This was an important goal for Henna who wanted to be able to return to the badminton court. "It is important to improve the strength imbalance because it helps to prevent risk of injury in the future" says Suvi.
How does an athlete find the right motivation?
"At first the torn ACL felt like such a huge setback. But, as my physical therapy program continued it helped that I could see the steady progress in my knee's range of motion. I felt more and more motivated to continue the program and get myself ready for competition."
Henna has now fully recovered and is able to compete. She continues to visit the clinic for prevention care because "it's better to be safe than sorry".
Stay tuned for more physical rehabilitation stories, just like Henna's.