An MRI showed several bulged discs in Renee's cervical and lumbar spine
Eight years ago while skiing at Big White in Canada, Renee had what she describes as 'a nice stack', which left her concussed and seriously injured her back.
"I was on the last run on my last day," Renee recalls. "And I was on a ski cross course that I had no business being on. I knocked myself out briefly, and thought concussion was going to be the main issue."
Despite the heavy fall, Renee managed to get back up and ski down the slope. But a week later during an exercise class, her back went into full spasm. An MRI discovered several bulged discs in both her cervical and lumbar spine.
"I was in a bad way," Renee says. "My kids were year one to year seven, I was in and out of cars and carrying groceries and little people. The pain was constant, I was walking around with a constant headache and a frown on my face."
Exercise therapy treatment helps strengthen Renee's spine and confidence
After a period of treatment, a sports physician advised Renee to strengthen her back. She began strength training with an alternative provider, which initially helped to rehabilitate her back.
Then in 2020 during lockdown, Renee had more spasms and returned to the same doctor. "I could barely move my neck," Renee says. 'So the doctor said "I'm going to send you to getback this time."'
Renee committed to her customised getback treatment twice a week and completed it 'to a T', but she also "really liked the confidence I got from being supervised."
"If I had to summarise what I got out of getback, it was really personalised, supervised attention. The supervision takes out the risk of overextending yourself too soon."
"It keeps you on track as you're doing your program, rather than being let loose in a gym where you can have a burst of adrenaline and dial up the weight on your own."
"With getback it was a gradual build-up" Renee explains.
DAVID exercise equipment allows full range of movement
Renee says she also gained confidence as she learned about the unique bio-mechanical properties of the exercise devices from DAVID.
"With the support the devices give you through the full range of your movement, you never feel like you're straining or pushing a dead weight," she explains.
"They're isolating what you need to work on. It's very hard to bring in other muscles to compensate, so they can target the spinal muscles that need work so precisely."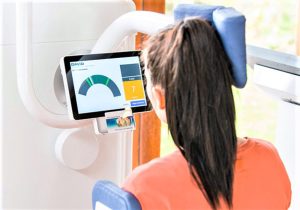 The DAVID G140 exercise device targets the lateral flexion movement of the cervical spine.
A treatment program with pain education and objective assessments
"Part of my issue was triggering of panic when I felt a bit of pain in my neck or slept awkwardly and woke up sore," she explains.
"Adam calmly educated me along the way about the science of pain association with certain experiences you have. I've found that since I went through the program, I manage myself a lot better.  It's that mental game of not getting ahead of myself and also not panicking if I have a bit of a setback."
The post-assessment includes measuring the strength and mobility of her spinal muscles. 
Renee returned to getback recently for a 24-month post-assessment, which included measuring the strength and mobility of her spinal muscles.
Her results (see table below) show the significant improvement from her pre-treatment assessment (grey line) to immediate post-treatment (brown), but also further improvement two years post-treatment (blue).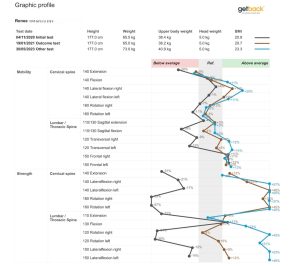 The EVE report shows Renee's spine mobility and strength tests to compare results. 
Renee returns confidently to an active lifestyle and is pain-free
getback™ Head of Exercise Physiology Adam Cabble says the results are a credit to Renee's commitment and can-do attitude.
"For Renee to come back two years after her initial getback treatment not only stronger but without pain is testament to her complete physiological and cognitive recovery, and the benefit of getting back to and maintaining an active lifestyle."
While Renee feels stronger, she was pleased to see the scientific evidence.
"I think the data is so helpful because you can't dispute it," she says. "It really holds the truth mirror up and says, 'this is where you're at.'"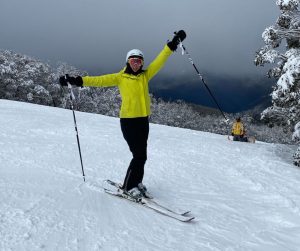 Renee is at a place now where she's confident and determined to stay strong and active, while still keeping some tabs on herself.
"I'm going skiing soon and I do Pilates, but I have to be a bit careful. I'm the sort of person who will push myself if I'm not supervised, so I can't get too excited and try the ski cross course again!"