Stanislav Penovich, is the co-Founder and clinic owner of the newly opened medical center, Vertebra Clinic. The Vertebra Clinic started when Stanislav partnered with neurosurgeon and co-Founder, Dr. Dilyan Ferdinandov. After several years of performing surgery after surgery, Dr. Ferdinandov came to realize that the less patients he operates on, the better the outcome. In fact, he was performing 350 operations per year in a leading hospital in Sofia, but came to realize that something needed to change. Out of 10 patients that he saw, around 7 to 8 needed to be treated through physiotherapeutic methods such as active exercise therapy. However, there was no such opportunity in Bulgaria.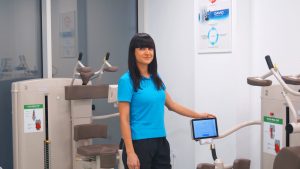 The medical center utilizes a well-rounded approach
The Vertebra clinic is a medical center, which aims to bring the active therapy to patients in Bulgaria and educate people on how to take care of themselves. "Many of our patients come in without knowledge of what joints and muscles help and support their spine". In fact, a challenge for them has been that patients visit the clinic and think the DAVID devices are the same as standard gym equipment. "Many of these patients come to regret this, call us back and tell us that going to the gym made their back pain much worse. Then they set up an appointment with us".
 

"We take great pride in our well-rounded approach. We are the only medical center in Bulgaria which provides a full evaluation."
"The devices must be the heart of the clinic" says Stanislav. "We have a doctor who examines the patient through a complete medical background check. Then the patient goes to a physiotherapist to do a manual checkup. After this the patient is referred to the device-based therapy". For those patients suffering acute pain, there are other therapy treatments available including high-intensity laser treatment and shockwave therapy. "Our approach is unique in Bulgaria because we are the only medical center which provides a full evaluation including doctor, physiotherapist, and measurable testing done with the devices," says Stanislav. Every patient at Vertebra will have their own personal file with all of their data as well as a personalized at-home exercise program. These are essential to support the patient's recovery.
"Every patient, physiotherapist, and medical specialist ends up loving the devices. It is the combination of accuracy and simplicity."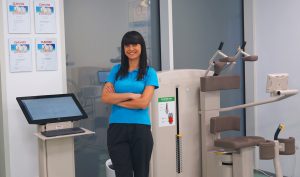 Surgeons, doctors and patients know the difference
After a few training sessions with the devices Stanislav says that "every single patient ends up loving it. They really feel the difference when training with the DAVID devices." The clinic works with several neurosurgeons and neurologists who are also impressed by the devices and the Vertebra clinic. "These medical professionals understand how accurate and simple the devices are". The clinic is undergoing a project of implementing a treatment program for post-spinal surgery patients. "There is not a single place in Bulgaria to provide a safe and proven protocol for post-surgery treatment. We will be working with neurosurgeons to make a safe post-surgery therapy program for these patients to help them gain their back strength and mobility.
The David Spine program is changing lives
In the past two years, the DAVID devices have been successful in treating hundreds of patients in Bulgaria. This includes many success stories. A young patient had a pinched nerve in his neck that was so bad he was seeing odd colors and heard a buzzing noise in his ears. After 24 sessions with the DAVID devices, he said those symptoms were gone.
In fact, back pain is what brought Stanislav to find the DAVID Spine Solution. "I suffered from severe back pain and could not find any adequate therapy. I tried basic physiotherapy, electromagnetic therapy, you name it and I tried it, but nothing helped". After having back surgery for a herniated disc, Stanislav was unable to move for several months, causing problems for his whole body. "Even after the surgery there was still pain".
"He had one of the worst strength and mobility test scores we had ever seen."
Stanislav's initial testing done with the DAVID devices, was one of the worst conditions that Lotta Grannenfelt, PT and Head of Education at DAVID, had ever seen for a young man. Stanislav started a treatment program with the David Spine Solution and after 13 sessions the pain stopped. "After 36 sessions, training twice a week, I was able to regain full mobility and strength in my back. It's amazing to think how far I came". Stanislav and the rest of the Vertebra clinic are excited to rehabilitate patients and change their lives.
We look forward to follow how Vertebra will continue to transform lives in Sofia, Bulgaria. For more information visit their reference page and website.