G120 Lumbar Thoracic Rotation Device
The movement mobilizes the lumbar/thoracic spine in the transversal plane activating the rotation muscles.
Indications and contraindications
Most back disorders can be treated successfully with the David Spine Solution. These include unspecific back pain, degenerative changes, herniations and post operative situations. Participation requires exclusion by a specialist of any contraindications and/or consent by the treating surgeon within four months of the surgery. Contraindications include tumors, acute inflammations, and recent fractures. Successful treatment requires patient consent and motivation to participate.
Torso Rotation
The device movement mobilizes the lower back (lumbar/thoracic spine) in the transversal plane activating the rotation muscles. Effective upper and lower body fixations ensure isolated rotation movement.
Entering the device is quick and easy
Automatic shoulder fixation height adjustment (electronic version)
The lower body is rotated while the upper body remains fixed
Starting position adjustment in 10o intervals
Precise resistance curve provides smooth, full-range movement
Movement is carried out in two directions
EVE integration with strength and mobility tests
Weight stack: 2,5/100 kg, 5.5/220 lbs
Target muscles
Obliquus externus abdominis
Obliquus internus abdominis
Rotatores breves
Rotatores longi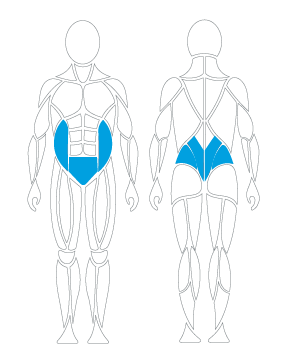 Dimensions (Width, Length, Height)

143/140/160 cm, 56/55/63 in

Weight

285 kg, 628 lbs

GMDN Code

61508 Core-body mechanical weight exerciser

Programs

With the DAVID Spine Solution, spine muscles can be exercised in a scientifically proven safe and effective way. The exercise is safe even for patients with severe complaints such as a herniated disc in the spine or neck, scoliosis, and osteoarthritis.

Adjustments

Range of motion: 10° degree steps

Upper back support: Step-less with an actuator (electronic), 1-9 step-less (manual)

Knee support: Step-less

Isometric torque measurement points

-80°, -70°, -60°, -50°, -40°, -30°, 20°, 10°, 0°, 10°, 20°, 30°, 40°, 50°, 60°, 70°, 80°

Product Codes
Power

Power (idle / actuators with load): ~36W (~0.15A) / up-to 140W (~0.6A)

Weight stack

2.5/100 kg, 5.5/220 lbs

Features

David Health Solution Ltd. is the world leader in rehabilitation solutions for musculoskeletal problems. Health care professionals in more than 30 countries are using DAVID Exercise Therapy Solution and have been able to help millions of patients with chronic and recurrent pain.