Active physiotherapy for back pain treatment
In most cases, surgical interventions are the primary treatment for managing back pain conditions. However, Dr. Berjano highlights the efficacy of active physiotherapy in alleviating back pain. He explains, "Scientific evidence favors active treatment as the optimal approach. Its benefit lies in addressing a key factor in chronic pain, while also enhancing overall well-being through exercise."
Why does an orthopedic spine surgeon use DAVID and EVE technology to treat back pain?
The DAVID Spine Concept was first implemented at the Ortho-Spine clinic a few years ago, after Dr. Berjano was introduced to the exercise devices. "When I got to know the DAVID technology, I fell in love with the concept, because the standardized process allows you to bring higher quality treatment to a much larger group of people." The first implementation consisted of two lower back devices and one neck device along with the EVE software.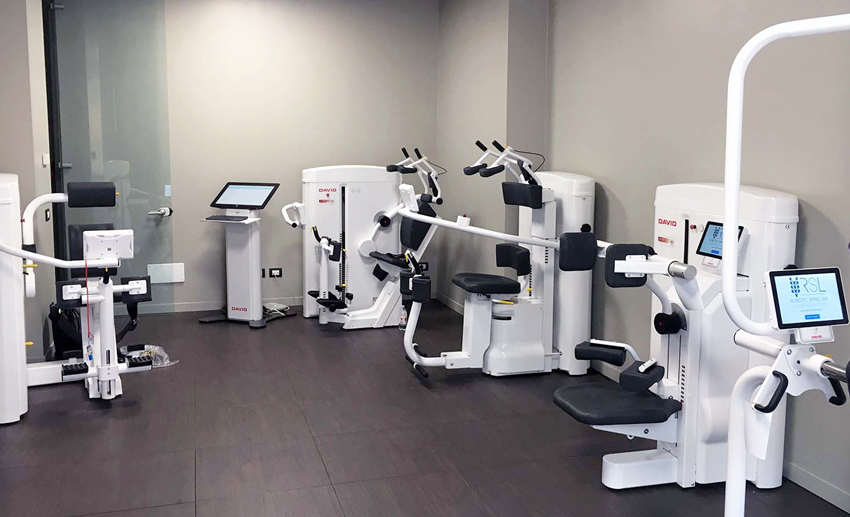 What inspired Dr. Berjano to install these exercise devices into his clinic? "We were inspired by a company prevention case that only used two of these devices for a lumbar spine treatment program. The results showed that it was successful in reducing absenteeism from work due to low back pain." The first treatment program consisted of 12 sessions spread over six weeks with the help of a physiotherapist.
After three years and seeing successful outcomes from the lumbar spine treatment program, they decided to expand their clinic. The expansion included 3 new devices and four new physiotherapists. The new treatment program consists of 24 sessions, two days a week. As a result, more than 300 sessions are done each month.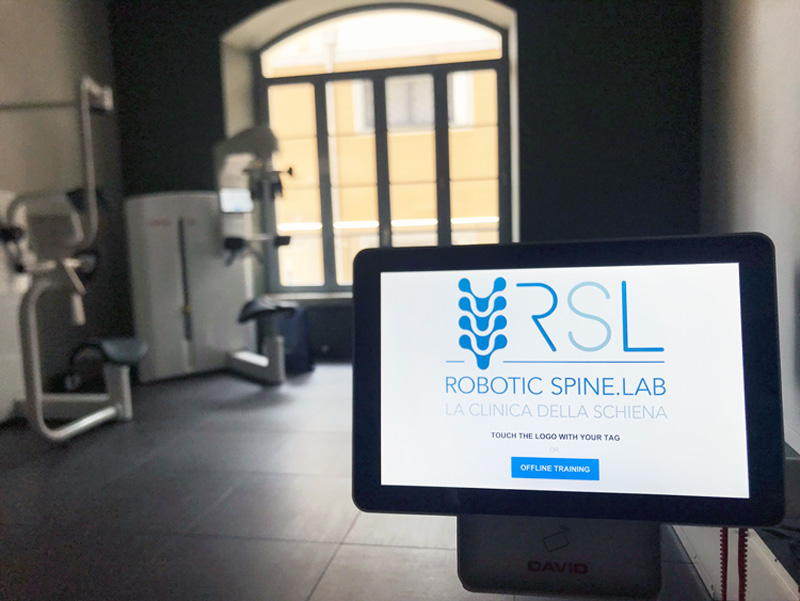 Notable success stories for post-operative treatment
The DAVID Spine Solution has proven to be successful in treating patients after undergoing surgery. One of the major success stories for Dr. Berjano involved a patient suffering from an extraforaminal hernia. The patient underwent surgery to remove the hernia and after surgery suffered from immobilization. With the David exercise-based treatment program, the patient had a significant improvement in his muscle strength.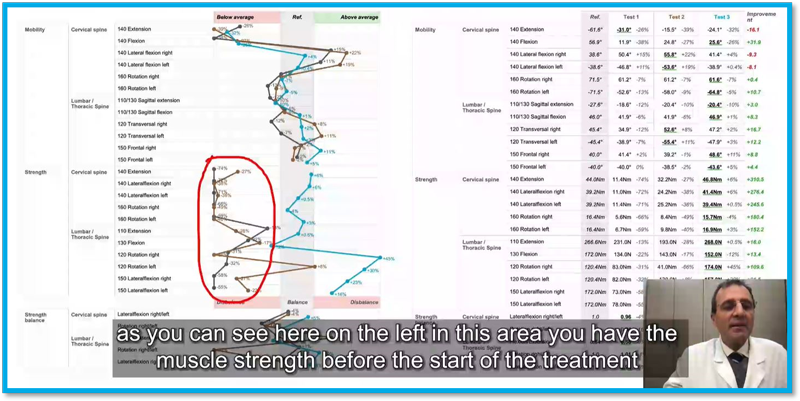 This shows the patient's initial strength tests before the active therapy on the David devices.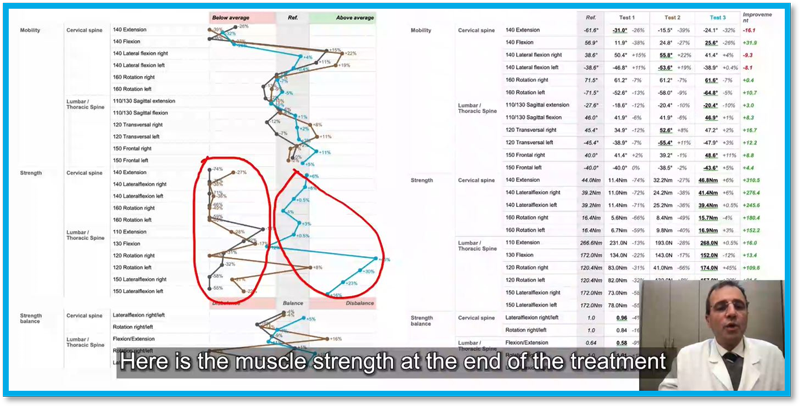 The blue line shows the patient's muscle strength improvements at the end of the exercise treatment. 
Another notable success story is of a 50-year-old dentist who suffered from spinal stenosis and underwent surgery. After the operation, it was critical for her to get into good physical condition as soon as possible so she could continue her work as a dentist. Her treatment program using the David Spine yielded successful results. "There is great improvement and her initial muscle strength values and range of motion have increased significantly" says Dr. Berjano.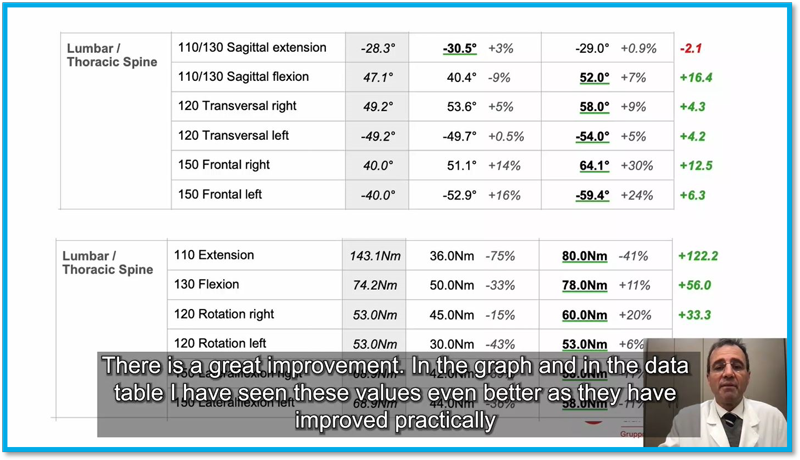 The EVE report shows the patient's mobility and strength improvements from the test results.
He adds, "it is very important in operated patients that their treatment does not cause pain and therefore does not scare the patient to make them immobile." The David Solution allows for tailor-made treatment programs that closely follow each person's capabilities so that no pain occurs during exercise. This makes the device-based treatment safe yet effective in gradually increasing strength and mobility.
Advantages of the DAVID Solution
According to Dr. Berjano, the DAVID device-driven exercise program offers a "tailored yet standardized approach, ensuring high-quality care for each patient." Furthermore, it extends beyond physical well-being to encompass mental and cognitive health. In conclusion, Dr. Berjano asserts that "this treatment is safe, scientifically validated, and, in high-volume scenarios, remains economically viable for both the clinic and patients as it is affordable and sustainable in the long-term."
For more information, click the video below.

Click here to watch the full webinar where Dr. Berjano discusses why active physiotherapy with the David Spine Concept is used to treat post-operative patients.