---
Crosstrainer
The DAVID cardio equipment is equipped with a display that connects to the EVE software. This makes it possible to perform (maximum and submaximal) tests and to compose various interval training sessions based on the heart rate.
Cardio equipment
DAVID produces cardio equipment. We collaborate with hospitals, physiotherapy centers, orthopedic clinics, wellness centers, and hotels. The equipment is equipped with EVE (eValuated exercise) software for monitoring client results and site management.
Cardio equipment is currently not available in the USA.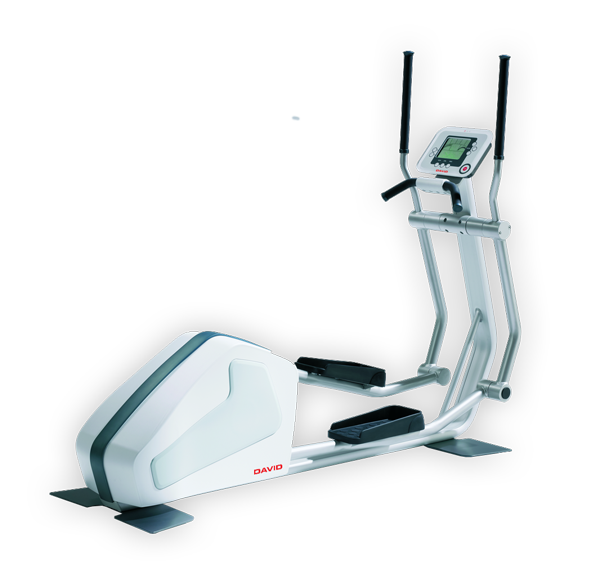 Crosstrainer
Dimensions (Width, Length, Height)

198/79/145 cm, 78/31/57 in

Weight

170 kg, 375 lbs

Certification

Medical version:

Medical-CE according to directive 93/42 EEC, class IIa
DIN EN957-1 SA
DIN EN957-5 SA
DIN EN 60601-1-2

Fitness version:

CE
DIN EN957-1 SA
DIN EN957-5 SA
DIN EN 60601-1-2

Programs

Quick start
Watt
Watt sensitive
Pulse
Isokinetic
Therapy
Interval
K-Cal
Hill
Random
Distance

Adjustments

Incline range: 0 – 15% incline

Environment

Maximum user weight: 150 kg, 331 lbs

Heart rate monitoring: Polar® pulse receiver

Features

Belt drive:

Integrated Emergency-Stop-System
Energy saving brushless 1300 W DC Motor
Toothed belt lamella system

Options

Hand pulse connection:
The metal leads in the grips can read the user's heart rate while gripping them, without the need for a heart rate band.

Ear pulse connection:
Small clips can be attached to the ear that read the user's heart rate during training, without the need for a heart rate band.

User weight extension 200kg, 441 lbs:
Structural modifications to the frame and motor of the treadmill to accommodate heavier users up to 200kg, 441 lbs.

External power supply:
Initial resistance can be lowered to 15 watts with optional power supply. The power supply also allows for constant on operation.