Bridgestone tire factory offers a prevention program that targets shoulder pain
Dr. Javier López Pérez, Director of Medical Services at Bridgestone Basauri factory, has just incorporated two DAVID Shoulder devices into the new space for the prevention of musculoskeletal pathologies that he has created at the Basauri tire plant.
This same week they will begin to carry out the first functional diagnoses within the new preventive program. The program seeks to improve the functional health of the workers of the Biscayan plant.
Dr. Javier López Pérez is part of the Spanish Association of Occupational Medicine Specialists. This opens up a very interesting field of work in which it is possible to analyze the effects of the DAVID technology-based treatment on the muscular and joint structure of the workers.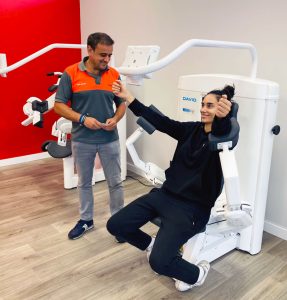 A worker does her exercise on the G460 shoulder abduction exercise device.
Bridgestone workers can prevent shoulder pain problems with DAVID exercise therapy
The Bridgestone company prevention program includes the G460 Shoulder Abduction and G660 Glenohumeral External Rotation devices.
The G460 Diagonal Shoulder Abduction device has unique tilted movement arm axes which guide the movement to activate scapula stabilizing muscles. This is typically a challenging movement, but in the DAVID device the movement is easy and pain-free to perform, even for painful shoulders. Click on the image below to see the movement of the G460 exercise machine.
The G660 exercise machine provides a purely isolated external rotation exercise for the shoulder. Optimized joint angles (scapular plane) enable effective treatment of a painful joint. Click on the image below to see the G660 machine in action.
Athlon MiniCLINICS: The future of corporate health
Athlon MiniCLINICS utilize DAVID medical exercise technology to equip companies with data-driven company prevention programs. "The aim is to improve the competitiveness of companies by promoting the health of employees in the work environment, with special emphasis on the treatment and prevention of musculoskeletal disorders".
MiniCLINICS company prevention programs are active in a wide variety of companies in Spain. This list includes Renault car manufacturing factories, CAF train and railway equipment manufacturer, and Mercedes-Benz factory to name a few. These prevention programs focus on preventing back pain with the DAVID Spine Solution. Be sure to check out our reference page for a complete list of company prevention programs around the world.
"We improve productivity, reduce absenteeism and tackle the ageing workforce by focusing on people and the development of healthy lifestyles". 
Read our blog article on the company prevention at Mercedes-Benz to learn how back-related sick days at Mercedes-Benz factory dropped by 75%.