When you live in a beautiful beach town in Brazil, it's important to have a strong and flexible back, with all that surfing and samba dancing to be done.  Tim Hosking has been living the dream for 12 years, based in the coastal city of Florianopolis in southern Brazil. 
Back pain slows down surfer's active lifestyle
A keen surfer since his childhood riding waves at Philip Island in Victoria, Tim makes the most of the sun and surf lifestyle in Florianopolis. But back pain has been a constant since a skateboarding injury in his teens flared up in his mid-20s.
The problems started when Tim's job in the energy sector meant he was spending a lot more time sitting at a desk and on planes. 'It really started to bother me when I started work,' Tim explains.
'It had just been a mild hindrance. But then I started travelling a lot for work, being on an aeroplane once a week, and there was wear and tear as well. 'So I've been seeing an osteopath and a chiropractor on and off for 20 years.'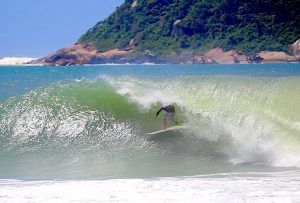 Keen to stay active with his young family, Tim decided it was time to explore a new approach to his back pain while visiting Melbourne for 12 weeks.
'I mentioned to my wife that I wanted to get my back looked at because it was playing up after the trip here,' Tim says. 'My wife actually tore a calf muscle before we left Brazil, so she saw a physio here who recommended getback for back pain.'
Medical exercise therapy to mobilize and strengthen spine muscles
After an Initial Consultation and assessment, the team at getback Middle Park developed an individual program to increase the strength and mobility in Tim's deep spinal muscles (multifidus).
'I was very unaware of the particular muscles that getback focuses on,' Tim says.  'The program was streamlined and pain free. I did two sessions per week for about 12 weeks.  'I was pretty consistent, apart from one week when I went back skiing.'
I was very unaware of the particular muscles that getback focuses on.
Tim recently completed his initial program and had his final assessment, with pleasing results.
'The increase in my strength was really good. Flexibility has increased too, but not as much as the strength.'
He also felt a 'noticeable difference' in his movement when he hit the surf and slopes in Australia. 'I went skiing in Austria in January and I had a lot of issues afterwards, tightness and soreness,' Tim explains. 'When I went surfing here I felt stronger, but also more flexible physically, particularly in the motion of standing up. 'And after skiing at Mt Hotham, I didn't have the same sensations and issues that I had earlier this year in Austria.'
Tim's final session at getback before returning to Brazil will focus on a range of exercises to further increase his mobility.