Cycle Up
The DAVID cardio equipment is equipped with a display that connects to the EVE software. This makes it possible to perform (maximum and submaximal) tests and to compose different interval training based on the heart rate.
Cardio testing
With this new feature, EVE can be used in evaluating cardiovascular health and its progress. This supports David's long-term goal of designing products that help our end customers in a holistic manner.
The submaximal validated cardio testing is safe, fast and easy to perform. The test can be performed with the medical versions of David Cycles (also recumbent cycle) and requires a Polar heart belt.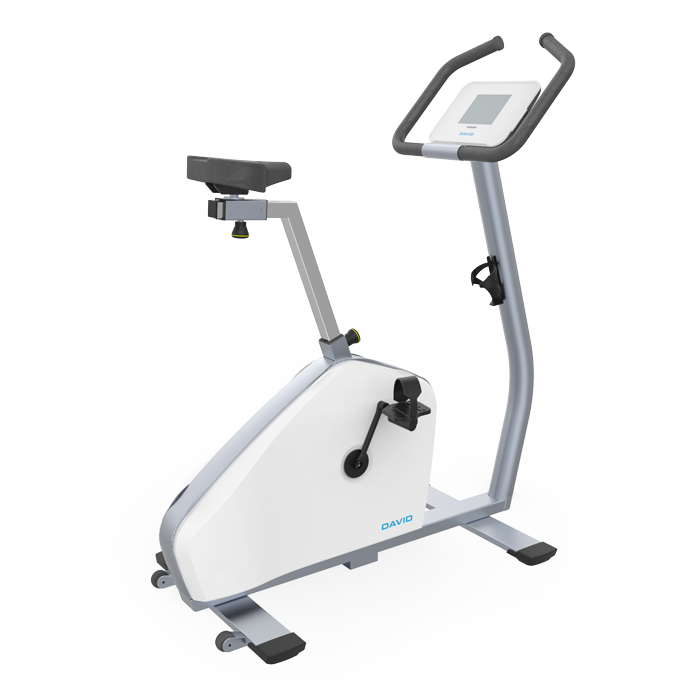 Programs:
Quick start
Watt
Watt sensitive
Pulse
Isokinetic
Therapy
Interval
K-Cal
Hill
Random
Distance
Wymiary (szerokość, długość, wysokość)

65/125/148 cm, 26/49/58 in

Waga

63 kg, 139 lbs

Orzecznictwo

Medical version:

Medical-CE according to directive 93/42 EEC, class IIa
DIN EN957-1 SA
DIN EN957-5 SA
DIN EN 60601-1-2
Fitness version:

CE
DIN EN957-1 SA
DIN EN957-5 SA
DIN EN 60601-1-2

Programy

Quick start
Watt
Watt sensitive
Pulse
Isokinetic
Therapy
Interval
K-Cal
Hill
Random
Distance

Korekty

Seat heights
Horizontal seat position
Grip angle (During installation)

Zakres prędkości

25 - 500 watts (rpm independent)
25 - 1000 watts (rpm dependent)
5 watt steps

Opór

25 - 500 watts (rpm independent)
25 - 1000 watts (rpm dependent)
5 watt steps

Środowisko

Maximum user weight: 150 kg, 331 lbs

Moc

Self powered with no need for grid power.

Cechy

Heart rate monitoring: Polar® pulse receiver

Opcje

Test program package:

IPN test
Astrand Test
PWC Test
Lactate test (supports measurement procedure)
Standart test
Conconi test

Adjustable crank arm:
Gives the possibility to adjust the radius of the pedals from the crack arm axis.

Hand pulse connection:
The metal leads in the grips can read the user's heart rate while gripping them, without the need for a heart rate band.

Ear pulse connection:
Small clips can be attached to the ear that read the user's heart rate during training, without the need for a heart rate band.

User weight extension 200kg, 441 lbs:
Structural modifications to the frame of the bicycle to accommodate heavier users up to 200kg, 441 lbs

Serial connection:
Serial connection to ergospirometry systems:

Supported protocols:

Ergoline protocol (Recommended)
Expanded Cybex protocol